Hardscaping and softscaping are like peanut butter and jelly: sure, you can enjoy each of them separately, yet when they're combined, amazing things can happen. So if you've only considered what flowers, shrubs and trees you want to plant in your front yard or backyard, it's time to think about hardscaping, too. Here's how to get started:
Browse the Circulars
Hardscaping encompasses several outdoor design features, including:
Paved walkways
Retainer walls
Fences
Patios
Rocks
Garden edging such as gravel
Pathway lights
To get your hardscaping ideas flowing, check out the newspaper circulars. Big stores like Lowes and Home Depot usually have an outdoor scene set-up shown in photos, so you can see how hardscaping such as a paved walkway can work with softscaping such as flower beds. These circulars also list the per-unit price for items like patio pavers and wall bricks, so you can begin to get an idea of what your budget will be if you're looking to enhance or makeover your hardscaping.
 
How hardscaping and softscaping and work together
Try Some Software
Another great place to look for hardscaping inspiration is outdoor design software. There are many options on the market, including:
Free software – Online design tools can help you get an idea of your outdoor space and what you want – and would be able to – include in the space. While it would be great to have an outdoor kitchen, fire pit and full patio furniture set on your back patio, it might get cramped. Hardscaping stone manufacturer Eldorado Stone offers a free online tool to help homeowners visualize their backyard, so you can drag-and-drop walls, fireplaces and stone columns in a few different arrangements before making any long-term commitments.
Software packages – Software packages provide more tools to work with than free software, such as cost estimation, a designer that takes your topography into consideration and garden/patio/deck templates. You can find reviews and comparisons among the top software packages here.
Call a Professional to Discuss Ways to Use Pavers, Find Patio Furniture or Install Lights
A landscape design professional can help you identify key aesthetic components for your outdoor design, such as your focal point and how to balance the hardscaping and softscaping. They can also help plan the logistics of a hardscaping project and identify any needs for digging, drainage and choosing the right materials that can meet your needs and withstand the weather in your location.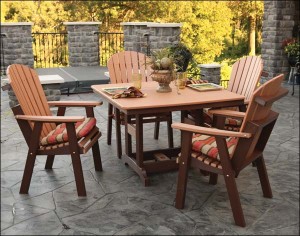 A paved patio with surrounding landscaping
Thinking about your outdoor design? Your hardscaping can only be enhanced with beautiful, high-quality patio furniture. See what your options are here.