If you're one of the 21 million Americans who own a pool, hot tub or spa, you know how amazing it is to have an aquatic space outside where you can relax for hours on end. For pools especially, you can spend an entire day in and around it and there's plenty of room for your family and friends.
The space around the pool, however, sometimes needs enhancements so you and your guests can be comfortable. For some inspiration for how to do that, here are five ideas for an outdoor living space around a pool.
1.      For Beauty: Pergola
Pergolas have been around for centuries and they've become popular for use in gardens, backyards and pool areas. The word pergolas is Latin for "extended roof" or arbor. The structure can be used in a pool area to create a space for outdoor furniture, and canopies or panels could be added for some shade for the sun. Primarily, pergolas add beauty to an outdoor space because they're easy to decorate with seasonal hanging plants that add color, string lights or climbing vines, and this décor can be admired from under the structure as well as from afar.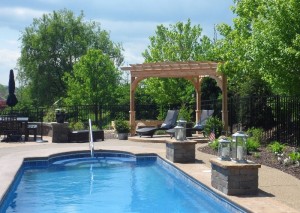 2.      For Convenience: Cabana
Cabanas are outdoor structures that include three to four walls and a roof. They're versatile and can act as a house for a hot-tub, a guest house or a kids' clubhouse. For pools areas, a cabana is a great idea because it can provide shelter from the sun and cover tables, chairs or other outdoor furniture, and at the same time, if the front is open, you can look out onto the pool or your backyard. It's like bringing a covered porch right to the pool side.
3.      For Beauty, Storage and Convenience: Pool House
A pool house is the ultimate pool-side structure. Designed like a small home, pool houses can come in a variety of shapes and sizes and usually include four walls or sides, a roof and windows with glass, screens and/or shutters. They're a great addition to the outdoor living space around a pool because they're spacious, weather-resistant and architecturally stable and attractive. They can also be assembled in as little as one day.
4.      A Must: Outdoor Furniture
If you have a pool, outdoor furniture is a must-have. With comfortable furniture, you can lounge by the pool or take a break from swimming, all while doing it comfortably. You can pick the furniture for your lifestyle: If you host a lot of pool parties, consider getting a large outdoor table set that can accommodate several people. Or, if you spend a lot of time laying in the sun, get a chaise lounge you can stretch out on.
5.      A Nice-to-Have: Fire Pit
A fire pit is a nice-to-have feature for when the sun starts to set and a chill sets in. For the last of the swimmers in the pool, a nearby fire would be a great way to warm up. It also creates a space for entertainment at night for you and your guests.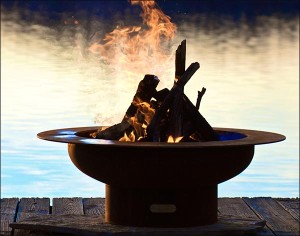 Looking for more ideas for the outdoor living space around your pool? Take a look around Fifthroom.com or give a Fifthroom Project Advisor a call to discuss your options – 1-888-293-2339.