As our culture continues to favor comfort over formality, the dining room has been replaced with spaces like casual kitchen counters paired with trendy, metal bar stools.
It's happened as a result of a major culture change. Usually, both parents are now working and the woman is not staying home to clean and cook. So, family meals become staggered when say, dad gets home at 6 p.m. and the kids are running to soccer practice at the same time.
Why Dining Rooms are Important
But, the dining room is still an important room of the home. It's a secluded area where family and friends can focus on meals and conversation. It blocks out distractions like the TV. While we always have our phones on us, maybe we can hide them away during our time in the dining room.
"In order for kids to be seated at a table together and really connect around a table, the table needs to be prepared in a particular way that encourages them to be together, and conceivably encourages them to share their food," said Alice Waters, owner of Chez Panisse Restaurant in California.
I think this statement can be true for any age group. Here are a few things you can implement to design a functional dining room:
You have to create an environment that fosters respect. Set the table with silverware and plates.
Show your guests you care about their comfort by using a tablecloth and seat cushions.
Dining is so much more than the food. It's about the entire experience. Make your guests see beautiful things, not just taste the beautiful food. Add a nice centerpiece or design the room or patio with a theme.
Outdoor Inspiration
Outdoor dining spaces provide an added bonus – they are set amongst nature. You and your guests or family can breathe in fresh air and the scent of flowers all while you eat, providing a very different experience than an indoor dining room.
We love this outdoor dining space!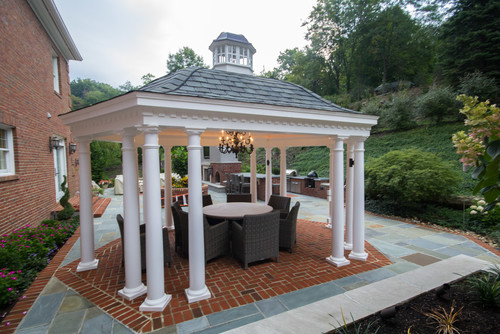 One of our customers combined comfort, simplicity and exclusivity to create this modern dining area. The chandelier adds beauty, elegance and offsets the straight-lined structure and dining set.
And, if you want to enhance nature's beauty, Fifthroom.com's Oak Dining Table satisfies this look. Fashioned out of solid oak, this table's durability will make it that table in your family that's passed down for generations.
Fifthroom.com is the leading provider in outdoor furniture, gazebos, pergolas, pavilions, and other products for fabulous outdoor living. We also offer unique, handcrafted indoor dining sets to help you create the dining room you've always wanted!