The day has come: the pergola kit has arrived, the wooden pallet gently dropped into your backyard. You grab your partner – or your kid or parent – and you work away to get your dream outdoor structure all put together.
As you sit back and admire the fruits of your labor, there's only one question left: how will you decorate your pergola?
It is, after all, your dream outdoor room. Make it an extension of your home and your personality with these ideas:
Add a Privacy Screen
Privacy screens do exactly what it sounds like they do: they add a sense of privacy to an open, outdoor area. Whether you're looking for some extra shade from the sun or a barrier between you and a nosy neighbor, these screens can bring another design element to your outdoor structure. They can be placed on top of the pergola or on the sides and come in quite a few designs, including grapevines, floral or even a custom design.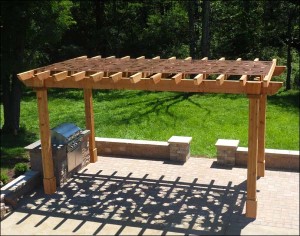 Grow Flowers or Vines
Flowers or vines on a pergola can easily integrate it into a garden setting or give it a pop of color on a patio or deck. You should decide whether you want an annual or perennial flower or vine, and whether you're willing to wait a season or two until you get full coverage on the pergola or if you're willing to roll the dice with a fast-growing vine like honeysuckle. Be careful what you wish for because some vines and flowers can quickly get out of control and be hard to maintain, even leading to them taking over and killing other flowers or trees.
Grow Fruits, Vegetables or Other Crops
So maybe you don't have the land for orchards of apple trees or a vineyard, but with your pergola you have a fresh canvas to grow a decent amount of the crop of your choosing. Crops that will grow well on a pergola include:
If you don't already have a pergola that's prime for decorating, check out the Fifthroom.com customer pergola photo gallery to get an idea of what could be yours.