Easter Sunday marks the most important Christian holiday, when the resurrection of Jesus is celebrated, and a time for the fabled Easter Bunny to visit homes, hide eggs in the backyard and fill baskets full of colorful candy. It's a holiday where friends and family get together to eat a hearty brunch or dinner and celebrate the hope, renewal and warm weather the future is sure to bring.
The holiday lands right at the beginning of spring, which means some people in the U.S. have experienced anything from digging through snow with a child in a puffy snowsuit to finding? Easter eggs to outdoor dining in the backyard, enjoying a mid-70s sunny day where a light sweater is enough to keep you warm. Easter could be warm, depending on where you live. If that's the case, here are ways to be prepared to eat outside.
Inspect Your Outdoor Furniture – Or Start Shopping for New Furniture
Outdoor furniture has a shelf life, depending on how it's stored through the winter months and the type of weather it's up against when it is outside. Now is the time to check on your furniture; if it's covered in mold or the chair legs look like they're about to rust off, you still have time to shop for and consider what outdoor furniture you want for hosting an outdoor Easter brunch or dinner. There are pre-spring sales that could help you save some money, too.
Take Inventory of Your Dinnerware
You have a few options when it comes to hosting Easter or other spring get-togethers:
Keep it formal, and bring out your favorite table cloth, dinner dishes and flatware.
Serve the food buffet-style, with all the food on one table and giving guests the freedom to eat when they want and serve themselves as much as they want.
Go the easy clean-up route with disposable plates, cups and utensils.
Decide on your approach, and take the time to dig through your corner cupboard or plastic bins to ensure you have enough serving utensils and plates for your brunch or dinner.
Don't Forget the Centerpiece
If you're eating outdoors, the centerpiece can actually serve two purposes: to celebrate the holiday and to help keep the tablecloth on the table if the wind blows a little too strong. If you're serving a brunch and have eager children waiting to see what the Easter Bunny brought, here are some colorful centerpiece ideas. If you're looking for centerpieces that align with the Christian Easter holiday, here are some ideas.
Plan for Comfort
You could have the newest, most luxurious outdoor furniture, but don't forget the details that can make your guests feel right at home. Simple accessories, such as seat cushions, table cloth clips to hold the cloth to the patio table or picnic table, outdoor trash bins and space heaters or a small fire in a fire pit can make it more comfortable for your guests to stay outside on a beautiful spring day.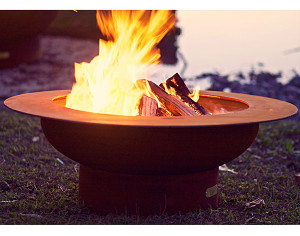 If you're hosting Easter and want to get your guests out into the fresh air, check out these outdoor furniture options to keep them comfortable.