Spring season brings people outdoors and instills a sense of rebirth and rejuvenation in populations all over the world. Frosty mornings give way to moderate temperatures as the sun rises, and bare trees begin to bud, an indication that warmer days are ahead.
While you prepare for spring and all the holidays that come with it – Passover, Easter, May Day, Mother's Day – you can take another look at your outdoor design and rearrange or spruce up what you have. If you're looking for tips to get your patio ready for hosting parties and creating serenity during morning coffee, look no further. Here are five rules for preparing your patio for spring.
Rule #1: Don't Ignore Those Weeds Growing in the Cracks
If your patio floor is made of pavers, bricks or stone, you may see some weeds growing between the pieces. Over the winter, weed seeds may have spread and without weed killer or maintenance, they were able to grow a little. The first rule for preparing your patio for spring is to take care of those weeds – dandelion, crabgrass, white clover, etc. – and eliminate their roots before you hose down and clean up the rest of the patio. Start by pulling what you can by hand and then spray with chemical weed killer or its homemade organic counterparts like vinegar.
Rule #2: Clean Your Outdoor Area Like Your Kitchen Floor
Yes, dirt outside is inevitable, yet cleaning your patio by sweeping then scrubbing with warm water and a cleaner like bleach will give it a brand-new look for spring. Another option would be to use a pressure washer. 
Rule #3: Layout Your Outdoor Furniture on Paper Before Bringing it Out from Storage or Taking Off the Tarps
By thinking ahead and laying out your outdoor furniture before you set it up on the patio, you can prevent the need to re-arrange. Even more, it can prevent the heavy-lifting that may be required if you forget to put the outdoor rug out first.
Rule #4: Check Out Your Furniture and Determine if It Will Last Through This Year
Spring is the time to touch-up your outdoor furniture or to start thinking about your budget for replacing worn furniture. Basic upkeep includes tightening bolts and screws, washing or spraying down plastic or wood furniture and adding oil to the joints of furniture that swivels or glides. Signs that it's time to buy new outdoor furniture include a lot of rust, wide-spread mold or mildew or that it's unsafe and could fall apart and hurt someone who tries to use it.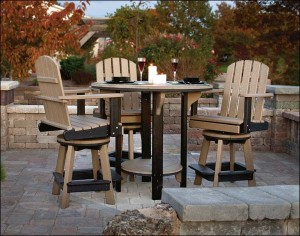 Rule #5: Clean the Outdoor Furniture Cushions with Soap and Water
If your outdoor furniture includes cushions, be sure to wash them with a mild detergent and water, and thoroughly dry them before use. It's not recommended to use groundwater because it may contain sulfur, which could carry an unwanted scent into the fabric or cushions. And for future reference: when storing cushions inside during the winter, be sure to use a breathable fabric to protect it such as a bed sheet, and not tarp or plastic sheet. This ensures that any moisture left in the cushions when you bring them inside has the opportunity to dry out and not turn the cushion into a mold colony.
Are you dreaming of early mornings and late afternoons on your patio? Get a jump start on your planning by checking out these outdoor furniture options.