As the weather grows colder all over the U.S., there's more opportunities to get creative with outdoor décor. Holiday décor warms up a front porch, yet once all the holidays pass, it seems a little out of place.
With these 3 DIY winter crafts, you can keep the same porch decorations up from now through the beginning of spring in March. So, as the winter drags on and the snow gets dirty and everyone catches a little cabin fever, your decorations can evoke that same sense of wonder that comes with the first snow of the season.
Winter Basket – This is easy to do. Just swap out your fall décor – red, yellow and orange leaves and gourds – for items that are found naturally in the winter.
How to do it: There are many ways to assemble a winter basket. Just remember that white, cream and green are safe colors that will look just as beautiful on Christmas day as they do in late February. To get started, consider going to a craft store or your front yard and craft drawer and getting:

White- or cream-colored spray paint
Epson salt
Sparkles
Basket
Pinecones
Pine branches
Twigs
To create a simple winter basket in a few minutes, gather your winter items and spray paint them. While the paint is still wet, add the Epson salt or sparkles for extra texture. Allow all the items to dry, and then arrange them in the basket. You can place the basket on the now-unused seats of your porch furniture or on a side table of your patio furniture.
Winter Wreath —A great winter wreath will work for any of the winter holidays – from Hanukkah to Christmas to New Year's Day – through the end of winter. To do that, it should embrace the foliage and nature that lives through the season.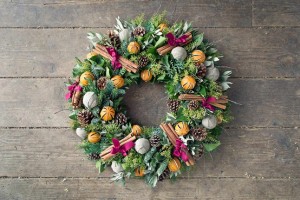 How to do it: A winter wreath requires a mix of store-bought materials and natural materials. So think about it this way: While you're out holiday shopping or doing your shopping online, go to a craft store and purchase:

A wire wreath ring and florist wire or moss OR a foam wreath ring
Green twine
Scissors
And then when you're out on walk – with your dog, kids or partners – grab some pretty, natural items. Ideas include:
Pine or fir cones
Pine needles
Small twigs
Attach the cones, needles, branches and twigs to the wreath ring. You can top it off with colorful ribbon bows.
Winter Lights – Let's admit it: Lights always look pretty on a front porch or back patio, especially in the winter when it's dark for so many hours in the day. Winter lights are a great way to bring sparkle to a sheltered front porch or, if you live in warmer climates, to your patio furniture.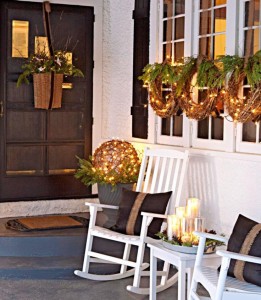 Photo
How to do it: Add lights to your tables, planters, winter wreaths and windows to make your home glow. Here are a few ways to do it:

Use battery-powered candles as a centerpiece for an outdoor table or patio side table. Some are programmable so you can set them to go on at the same time every day (e.g. sunset). Like an indoor centerpiece with candles, aim to get two to three different heights of candles. Then, just add a few pine cones and evergreen sprigs around the base of the candles.
Create a ball of lights. Originating at formal gardens, balls of winter lights have become a DIY project that many people – regardless of crafting experience – can do. Two approaches include:

Small balls – Dip twine or string in glue and then wrap it around a balloon. Once dry, pop the balloon and pull it out. The twine ball now acts as a frame that you can wrap a string of white lights in and around. Here's a video tutorial.
Large balls – Get chicken wire and form balls. The chicken wire acts as the frame that you can wrap lights in and around.
For both types of balls of lights, just remember to stay with the white lights for a sparkle that'll be appropriate all season long. Stay away from the reds and greens; they'll definitely look out of place once February hits!
For more DIY projects for your outdoors, read the rest of the Fifthroom.com blog. Or head over to Fifthroom.com to browse the patio furniture and other outdoor furniture that are sturdy enough to stand up to winter after winter and that can serve as a basis for your next DIY project.