The Thanksgiving holiday used to kick off the "holiday season," yet recently, it seems like more and more stores – and people – are getting into the spirit earlier. Whether you've been singing "Jingle Bells" since before you winterized your deck and outdoor furniture, or you're just now getting into it, check out these gorgeous outdoor holiday decorations from around the world.
Scottsdale, Arizona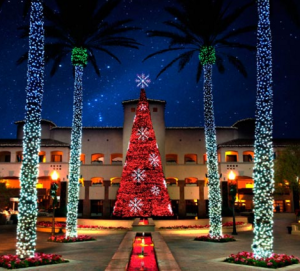 First up is Scottsdale, Arizona. With an average high temperate of 68° in the winter, this city celebrates by embracing its snow-less outdoors. From wrapping palm trees in lights – as seen above at the Fairmont Scottsdale Princess Hotel – to fire pits next to ice skating rinks, they're ready for a warm holiday season!
Strasbourg, France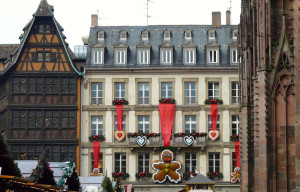 Next is Strasbourg, France, which is in the northeastern region of the country, near the German border. It's home to the Notre Dame, European Parliament and now, a great holiday decoration display. Even though the city is about the size of the U.S. cities Albany, New York or Little Rock, Arkansas, it hosts an impressive 12 holiday markets. From food to gifts to crafts, the markets spread all over the city are decorated with lights, garland and ribbon.
Pittsburgh, PA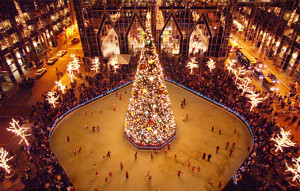 Dubbed the "Steel City," Pittsburgh celebrates the holidays every year by turning their downtown into a destination for families all over the region. There's an enormous ice rink (shown above) that's 67 percent larger than the world-famous Rockefeller Plaza rink, plus a holiday market inspired by a German Christkindlmarkt. The city opens its doors so that there's something for everyone to enjoy the holiday season.
Japan
Historically, Christmas hasn't been widely celebrated in Japan simply because Christianity isn't as widely practiced there as it is in the U.S., Europe of South America. The traditions of bright lights, gift-giving and family gatherings are becoming popular, however. Shopping malls, not surprisingly, decorate with lights, as shown above, and eating fried chicken on Christmas day has become a popular tradition.
Fifthroom.com is in the holiday spirit and offering specials for many products, from outdoor furniture to gazebo kits with free layaway. Check out all the offers by heading over to Fifthroom.com.