Millions of households across the U.S. have a pet or two. They range from pricey pure bred dogs to cats that were free from a neighbor and even to the new trend of pet chickens.
Whether you're an animal lover or not, chances are that you either have a pet or know someone who does. Pet owners are responsible for keeping their fluffy friends fed and sheltered. With winter approaching – and even making an early appearance in some parts of the country – it's important to consider how to keep a pet fed and sheltered now so you'll be ready for winter later.
Here's how to keep your pets sheltered in the winter:
This is a dog house to the extreme. The duratemp siding provides a high-quality, rot- and crack-resistant exterior to the dog's outdoor home. Plus, this comes with an attached fence with a gate, so you can make sure you know where your dog is at night. This is great if you're in the south or southwest and have lots of land where your dog runs free. It acts as shelter for your dog when there's sudden changes in weather or if your dog gets wet and needs a place to stay while he dries off, before he comes back into your home.
Fun fact: there are more than two million goats in the U.S. That's more than the human population of Vermont, D.C., Wyoming and North Dakota combined. They're mostly concentrated in the southern part of the U.S.
Which means, there are two million goats out there who need a home. Since this is a pet that's not typically taken in the home, and generally raised for its meat or milk, a small barn would be a great way to keep your goats safe from the colder winter elements.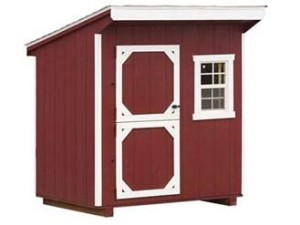 Chicken aren't just for farmers anymore. There's a whole movement of urbanites and suburbanites buying and raising chickens in their small backyards. While it's not legal everywhere, and there's controversy surrounding it as a trend, the fact is more and more people are choosing to raise chickens. If you're raising chickens and have a larger area, you can get a Dutch Chicken Coop. This type of coop is large and allows for multiple chickens to roost and nest:
Or, if you're only planning on having one or two chickens, you can go for a smaller coop: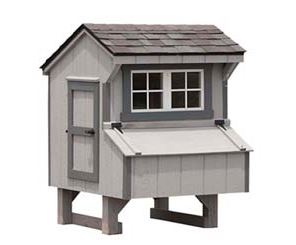 If you're interested in outdoor shelters for a pet, or outdoor furniture for yourself, head over to Fifthroom.com to see what's available.