As the weather starts to change and spring is just around the corner everyone is looking forward to revel in the sunshine, entertaining family and friends or simply reading a good book.  The design trend is to transform your style inside out by decorating the outdoor living spaces.  A harmoniously designed outdoor retreat is a powerful method to add some structure and purpose to this 'additional' room in your home, as you create a seamless flow from the interior to the outdoors.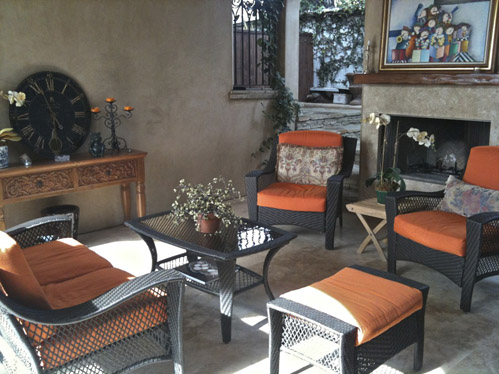 You should keep in mind these objectives while designing your outdoor retreat: function, style, quality and comfort. Will you be entertaining family and friends or simply relaxing in this space. The answer to this question might be both. In which case you want to incorporate separate features into your comprehensive strategy.
Perhaps an outdoor kitchen along with a dining area is needed to host events. A pergola can furnish shade in the hot summer months, as well as, present a cozy get-away with a fireplace or fire-pit during the winter months. Bring about a seamless transition from the interior of the home to the exterior living space as you create your own private escape.
As you are designing your unique oasis utilize pots and planters, statues and sculptures, candles and outdoor lighting, and above all durable performance fabrics that provide enduring color, a dramatic effect, a soft and sumptuous hand, as well as, worry free durability that resists stains and fading and is easy to clean.
It has never been easier to coordinate outdoor furniture, fabrics and trims. People are mixing and matching solid fabrics with patterned designs, while adding textures, fringes, bullion, cording and tassels.
Enhancing your outdoor living space with today's fabrics is as simple as recovering cushions, adding soft accessories in the form of throw pillows and throws and embellishing the outdoor retreat with outdoor drapes that bring warmth to the space.
A lovely fountain promotes a positive flow of energy. A garden fountain is not only luxurious but acts as a source of tranquility and relaxation. The balmy sound of cascading water can be a tremendous stress reliever and an attractive addition to your garden and backyard.
Start your preparations today, so you will be free to enjoy your outdoor retreat when the weather permits.