Every Christmas season brings with it a barrage of warm feelings and the urge to profess our love for one another. Without fail, the season also brings about a flood of marriage engagements. And if it doesn't happen on or around Christmas day, it'll happen on New Year's Eve.
Whether you're the parent, grandparent or friend of the engaged couple – or the couple themselves – here are three reasons to plan a gazebo wedding for the special day:
1. A Gazebo Looks Great in Pictures
Most people who get married want their wedding to look great in photos, especially since the average cost of a wedding photographer hovers around $2,500. It's a day that everyone wants to remember forever, yet it flashes by, making it hard to truly absorb every moment. That's where a professional photographer comes in; to help capture many of the moments.
A gazebo creates a classic, beautiful, radiant – yet subtle – backdrop for the glowing couple and their families. It's also very easy to decorate as much or as little as you want. Add lush and colorful flowers, flowing drapes, ribbons or bright lights, or use it as-is. It's a classic and timeless outdoor structure that will look great in pictures now and when you look at them again in 30 years.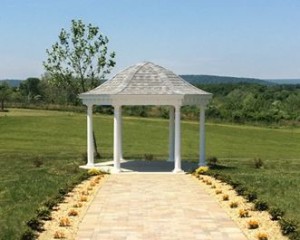 2. It's Romantic
From the classic movie scene in the Sound of Music where Captain Von Trapp and Maria share a special moment, to the teen romantic comedy a Cinderella Story where Austin realizes he's smitten with Sam, there are plenty of examples of gazebos being used as a romantic backdrop for a pivotal moment. Don't believe us? Check out the countless pins of gazebo weddings on Pinterest.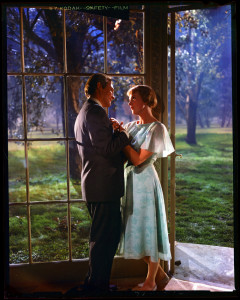 CREDIT: © 1965, 1993 20th Century Fox/Argyle Enterprises;
© 1998 20th Century Fox/Robert E. Wise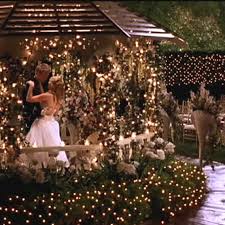 3. A Gazebo Can Transform Just About Any Space into a Wedding Venue
Just about any outdoor space can become a wedding venue with a gazebo. Whether it's a public park, a backyard or a patio, a gazebo instantly adds a sense of structured space while blending in with the beauty of its surroundings. A regular patch of grass quickly becomes an incredible space once a gazebo sits on it.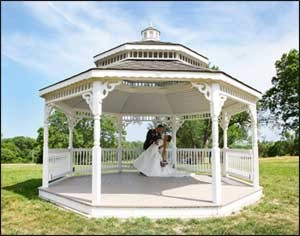 Have a question about the perfect gazebo for an upcoming wedding? Give Fifthroom.com a call at 1-888-293-2339, post a question on our Facebook wall or send us a Tweet.