Now that the holidays are over for the year, you can focus on what you want to do. Maybe it's a hobby; maybe it's an interior home project like remodeling your kitchen. If you've been long dreaming of improving your outdoor living space with a gazebo, pergola or cabana, here are a few tips for shopping for an outdoor structure to help you get started.
Consider How You'll Use the Outdoor Structure
If you want a space where you can enjoy the outdoors and grow a vine or vine flower, consider a pergola. Pergolas are designed to enhance gardens, patios or porches and can be free-standing or added to the side of a home. These structures can come in easy-to-assemble pergola kits – which we offer – so it takes only a few hours to construct it before you can start hanging plant baskets from it or enjoying a morning coffee under it.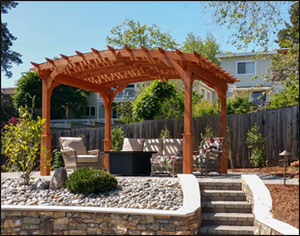 Free-standing pergola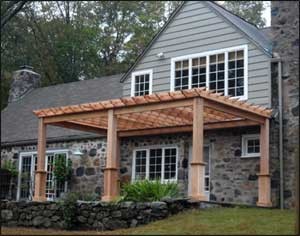 Pergola added to the side of a home
If you're looking for an outdoor structure with a solid roof for full coverage from the hot sun or rain, consider a gazebo. These structures are versatile in that you can enjoy an open plan, where the roof is supported by strong columns, or you could add screens and/or solid paneling for additional shelter from other outdoor elements, such as insects or heavy rains.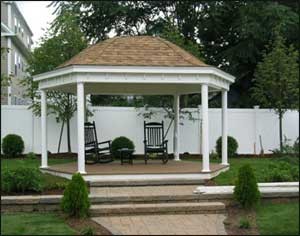 Gazebo with an open plan
Gazebo with screens and solid paneling
Think About the Space You Have
This may seem like a no-brainer, but you'll want to do some measurements before purchasing an outdoor structure and factor that into the size of the structure. For example, if you live in an urban environment with a 24 feet by 24 feet backyard, you could get an 8 feet gazebo and maintain a moderate amount of yard or grass space. Another option would be to get a 12 feet by 12 feet gazebo, so that half of your yard will be occupied by a gazebo. It all depends on your personal preference for how to use your outdoor space!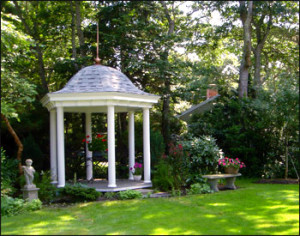 8' gazebo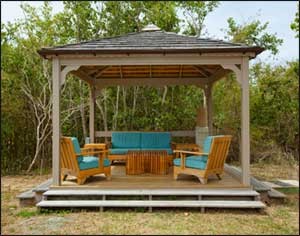 12' by 12' gazebo
Account for Your Weather and Seasonal Changes
Homeowners in New York have different weather considerations than those in Louisiana, so when purchasing an outdoor structure, you should apply the same logic. How many months of the year is there extreme cold? Extreme heat? Hurricanes? Bugs? Your outdoor structure should be designed to withstand extreme weather so if needed, consider options such as hurricane packages or opt for vinyl material instead of wood if you're in a wet climate.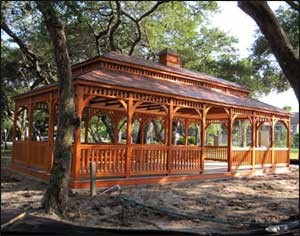 Gazebo with a hurricane-resistant package
Have a question about purchasing a pergola, gazebo or cabana? Give Fifthroom.com a call at 1-888-293-2339, post a question on our Facebook wall or send us a Tweet.