As the weather continues to warm, a lot of us feel a pull to be outside more. One great way to get out and enjoy the warming weather and longer daylight hours is to have a picnic. Whether you pull out the picnic blanket and head to your local park or dust off the picnic table in your backyard, eating outside is something I feel like most of us can get behind. Whether you are doing it to get some fresh air, feel the nostalgia of the simple act of eating in the backyard, or whatever other reason you may have, getting the food right is important. There are a lot of directions you could go with picnic food and I realize that some people may disagree with the items I have chosen to highlight here, but I hope that everyone can find at least one item they are interested in trying. I you do, please share your experiences in the comments or even share your own picnic favorites! And so, without further ado, the basis of my theoretical perfect picnic feast:
Picnic Snacks
Spring Herb Popcorn
You Will Need:
¼ Cup Olive Oil (Plus a little Extra for Drizzling)
2 Cloves Pressed Garlic
2 Sprigs Fresh Oregano /or/ ½ Teaspoon Dried
2 Sprigs Fresh Thyme /or/ ½ Teaspoon Dried
2 Sprigs Fresh Rosemary /or/ ½ Teaspoon Dried
½ Cup Popcorn Kernels
Sea Salt
Cracked Pepper
In a medium saucepan, bring the olive oil, garlic, oregano, thyme, and rosemary to a simmer over medium-low heat, stirring often. Cook until the mixture is fragrant and the garlic has softened.
Add popcorn kernels in a single layer and cover the saucepan with a lid. When the popcorn begins to pop (about 2-3 minutes), shake the pot over heat for about 3 minutes until popping slows. Remove from heat immediately and let cool for 1 minute.
Add olive oil (drizzle), sea salt, and cracked pepper to taste. Stir or toss to coat.
Chicken Caprese on a Stick – Makes 28 (Small) or 14 (Large)
You Will Need: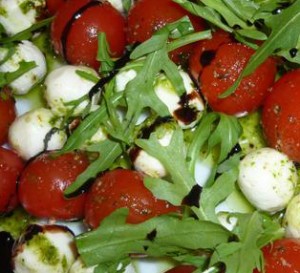 ½ Cup Balsamic Vinegar
Boneless Skinless Chicken Breast (14 ounces) Cut into 1" Cubes
1 Teaspoon Garlic Powder
½ Teaspoon Dry Basil
¼ Teaspoon Black Pepper
¼ Teaspoon Sea Salt
1 Tablespoon Grape Seed Oil
28 Cherry Tomatoes
28 Mini Mozzarella Balls
28 Basic Leaves
28 Small Skewers /or/ 14 Large Skewers
Make the Balsamic Glaze:
Add the Balsamic Vinegar to a small saucepan. Bring to a boil, reduce to a simmer, until it starts to thicken stirring continuously (for about 5-7 minutes). Once the vinegar has turned to a syrupy consistency that coats the back of the spoon. Remove from heat and pour into a small container.
In a small bowl, add the chicken cubes, garlic powder, basil, pepper and salt. Toss to coat.
Heat a large skillet to medium-high heat, add grapeseed oil and then add the chicken. Cook 3-4 minutes per side until slightly brown on the outside and no longer pink on the inside. Remove from heat and let rest.
Add one cherry tomato, one basil leaf, one mozzarella ball, and one cube of chicken per small skewer (or if you wish, use larger skewers and reduce the number of servings by doubling the layer on the larger skewer).
Drizzle with Balsamic Glaze just before you serve.
Picnic Sandwiches
Layered Picnic Loafs (2) – Serves 12 Per Loaf (24 total)
You Will Need: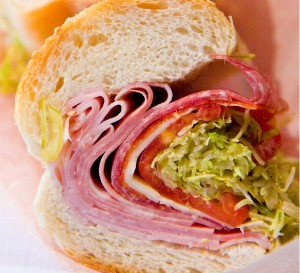 2 Unsliced Loaves of Italian Bread (1 lb each)
¼ Cup Olive Oil
3 Minced Garlic Cloves
2 Teaspoons Italian Seasoning (Divided in two)
½ Pound Deli Roast Beef
12 (1oz) Slices Mozzarella
16 Fresh Basil Leaves
3 Medium Tomatoes, Thinly Sliced
¼ Pound Thinly Sliced Salami
1 (6.5oz) Jar Marinated Artichoke Hearts, Drained and Sliced
10oz Package of Salad Greens
8oz Thinly Sliced Deli Chicken
1 Medium Onion, Thinly Sliced
¼ Teaspoon Salt
1/8 Teaspoon Pepper
Cut the loaves of bread in half horizontally, and hollow out both the tops and bottoms of the loaves, leaving about ½ inch in the bottoms of the shelves. Discard or save the scraps for another use.
Combine the oil and garlic; brush the insides of the bread shells. Sprinkle with Italian Seasoning. Layer the bottom of each loaf with a fourth of each of the roast beef, mozzarella, basil, tomatoes, salami, artichokes, salad greens, chicken, and onion. Repeat the layers. Season to taste with salt, pepper, and leftover Italian Seasoning.
If desired, drizzle with remaining oil mixture. Replace tops, wrap tightly and refrigerate at least one hour before serving.
Chicken Bacon Pressed Picnic Sandwiches with Raspberry Honey Mustard (2 Loaves) – Serves 8 Per Loaf
You Will Need: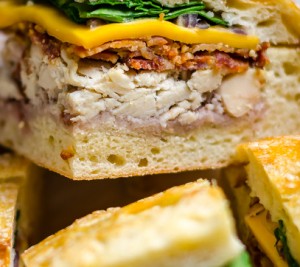 2 Loaves Unsliced Sesame Semolina
½ Cup Honey Mustard
½ Cup Raspberry Preserves
5-2 Pounds Shredded Rotisserie Chicken
1 Pound Cooked Bacon
1 Pound Sliced Extra-Sharp Cheddar
½ Small Red Onion, Sliced
4 Large Handfuls of Baby Spinach
Cut the tops off of the loaves of bread knife (Make sure to only cut off the tops, not even halves).
Cut around the inside of the bottom halves. Make sure not to cut all the way through the loaf. Remove most of the center bread.
Whisk together the honey mustard and preserves. Spread (to taste) in the bottom of the bread loaves. Save the remainder for later.
Press the chicken over the raspberry honey mustard. Then layer with the bacon, cheddar, red onion, and baby spinach. Press down as you go in order to fit as much filling as possible.
Cover the sandwiches with the top bread and wrap as tightly as possible with cling wrap. Place in the refrigerator and top with heavy items (about 30 pounds is ideal) to press. Leave to press and flavors to meld for at least 4 hours.
Remove from refrigerator, unwrap, and slice (about 8 slices per loaf). Serve with the remaining raspberry honey mustard.
Picnic Desserts
No Bake Mini Mason Jar Cheesecakes – Serves 8
You Will Need:
-For Jam (Optional)
1 Pint Blueberries
1 Pint Raspberries
1 Pound Strawberries (No tops)
2 Tablespoons Lemon Juice (Approx. 1 Lemon)
2 Tablespoons Honey
-For Crust
2 Boxes (16oz) Graham Crackers
12 Tablespoons (1 ½ Sticks) Butter, Softened and Cut into ½ inch Chunks
–For Cheesecake
1 Cup Condensed Milk
2 (8oz) Packages of Cream Cheese (Softened)
2 Tablespoons Lemon Juice (Approx. 1 Lemon)
1 Teaspoon Vanilla Extract
8 (4oz) Mason Jars
Make your Jam (Optional)
Add blueberries, raspberries, strawberries, lemon juice, and honey to a pot over medium heat. Cook for 7-10 minutes, until the berries begin to break down. Remove from heat, mash the berries with a potato masher, and return to heat for an additional 2-3 minutes (until the mixture has thickened to a jamlike consistency). Remove from heat and set aside.
Make your Crust
Place the Graham crackers into a food process and chop to a fine crumb.
Add 4 tablespoons worth of butter at a time to the crumb and pulse until all of the butter is used up, and the mixture comes together in a flakey, slightly crumbly dough.
Divide the crust evenly among the mason jars and pat down to make a ½ inch thick crust in each.
Make your Filling
Add the condensed milk, cream cheese, lemon juice, and vanilla extract to a large bowl. Beat with an electric mixer for 2-3 minutes until the mixture is smooth and fluffy.
Pour the filling on top of the crust, dividing evenly among the mason jars.
Top with either your jam or any other topping of your choice.
Seal your jars and chill until needed.
Picnic Drinks
Picnic Lemonade – Serves 22
You Will Need: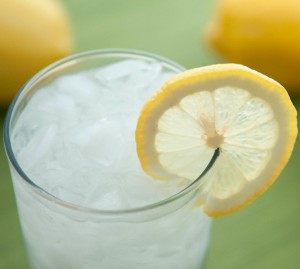 2 (12oz) Frozen Lemonade Concentrate
1 (12oz) Frozen White Grape Juice Concentrate
17 Cups Cold Water
Thaw all three juices from concentrate and mix with water in a large (nonmetal) container.
Refrigerate until ready, serve over ice.
Summer Sangria with Watermelon and Pineapple – Serves 4-6
You Will Need:
1 Bottle Moscato
½ Cup Brandy
1 Lime (Thinly Sliced)
2 Cups Cold Cubed Watermelon
Lemon-Lime Soda
Ice
Pour the wine and brandy into a pitcher and stir to combine.
Add the sliced lime, watermelon, and pineapple.
When ready to serve place some of the fruit in a glass with ice, pour the sangria over the ice and top with lemon-lime soda to taste.
If you are looking for a new picnic table, or any other patio or outdoor furniture for that matter, fifthroom.com has incredible lines of all of those things and more to offer and it's all just one click away! Come check us out today!
It is my hope that you have gotten something out of this post even if it is just one of these simple recipes. If you did, let me know in the comments or share this post with your friends.
Sources:
https://www.tasteofhome.com/recipes/layered-picnic-loaves/
https://hostthetoast.com/chicken-bacon-pressed-picnic-sandwiches-raspberry-honey-mustard/
https://feastandwest.com/2014/05/14/spring-herb-popcorn/
https://www.joyfulhealthyeats.com/caprese-chicken-skewers-with-balsamic-glaze/
https://fedandfit.com/no-bake-mason-jar-cheesecakes/
https://www.pillsbury.com/recipes/picnic-lemonade/b6d9b02c-8c79-4ed4-8843-52a74f8971ca
https://www.whattheforkfoodblog.com/2016/06/22/summer-sangria-with-watermelon-and-pineapple/