With the weather warming up, a lot of us just can't help but turn our gaze towards the outdoors in one way or another. I, like many other people on a clear night as the weather gets warmer, love a good bonfire. Whether it's having a few drinks with friends around a fire in someone's backyard, or hot dogs and s'mores with my nephews, there is just something about a mild night and the smell of the smoke and good food that makes me feel relaxed and nostalgic. A bonfire is such a wonderfully casual and versatile way to gather, especially in a safe and socially distanced way. If you feel the same way, then this article is just what you need as we enter campfire season yet again.
No matter the size or company, no bonfire is complete without the perfect sweet and savory snacks, and drinks, to go along with the festivities. While there are a ton of drink and snack recipes out there that are both traditionally and nontraditionally linked to bonfires, I decided to go over some of the easiest ones that I came across. If you're anything like me, simplicity and speed are the two most important things when it comes to having a bonfire. Hopefully these ideas will help spice up your bonfires this year, or maybe even inspire you to have one or two of your own this year.
Bonfire Inspired Snacks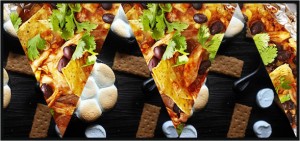 S'mores Dip
You Will Need:
A Skillet (or oven-safe dish)
Butter
Chocolate chips
Marshmallows
Melt butter enough butter to coat the bottom of your skillet or other oven safe container.
Place your chocolate chips into the bottom of your container and melt those as well.
Layer your marshmallows on top and toast in the oven on broil for about five minutes. Be sure to keep an eye on them to make sure they do not burn (at least any more than you want them to).
Serve With:
Graham Crackers
Vanilla or Chocolate Wafers
Strawberries or Apple Slices
Pretzels
Or Anything Else You'd Like to Use
Camp-Fire Nachos
You Will Need:
Cast Iron Pan
Heavy Duty Tinfoil
Tortilla Chips
Cooking Spray
Your favorite Nacho Toppings
This one you can cook right on the fire. First, lay out 18-inch sections of heavy-duty tinfoil and coat lightly with cooking spray.
Place your tortilla chips as well as any toppings that you want to be melted/ warm onto the sheet of tinfoil and fold into a packet.
Place the packet into your skillet and cook over the fire for 6-8 minutes or until warm and melty.
Lastly, you top with your cold toppings and enjoy!
Bonfire Inspired Drinks
S'mores Hot Chocolate (Serves 6)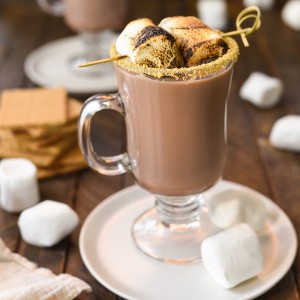 You Will Need:
6 Cups Milk
½ Cup Granulated Sugar
4 oz. Bittersweet Chocolate Chips
2 Tablespoons Honey
1/3 Cup Graham Cracker Crumbs
12 Marshmallows
6 Small Skewers
Heat milk and sugar in a sauce pan to simmering over medium heat (10-12 minutes).
Remove from Heat and whisk in chocolate chips until thoroughly blended.
Place honey on a small plate, dip the rims of the mugs into the honey and twist to lightly coat.
Place the graham cracker crumbs into a small bowl, repeat the same process from the honey in order to rim the mugs with the crumbs.
Place 2 marshmallows onto each small skewer and toast to taste using a kitchen blowtorch, open flame on gas stove, or broiler.
Pour the hot chocolate into the mugs and garnish each with marshmallows.
Bonfire Inspired Cocktails
Beachside Bonfire
You Will Need:
1oz Mango Rum
1oz Pineapple Rum
2oz Pineapple Juice
Grenadine
Brown Sugar
Corn Syrup
Pineapple / Cherry / Orange Skewer
Rim your glass with corn syrup and brown sugar
Add ice, both rums, and pineapple juice
Drizzle Grenadine, and top with your fruit skewer
Please Enjoy Responsibly (Especially if you are beside a fire).
If you are looking for a firepit as we enter the time when we can be outside at night without freezing, Fifthroom.com has just released a gorgeous line or unique firepits, any of which will completely transform your outdoor space. If you would like to check out our current collection of firepits, visit us at Fifthroom.com/fire-pits.