Pool season is upon us! While a beautiful location makes any pool look better, a simple pool in a plain old backyard can be transformed into a wonderfully designed outdoor space. A little bit of landscape design, an outdoor structure, and/or outdoor lighting will do the trick!
Landscape Design Revamp
Imagine you are floating around in your pool just relaxing. Then, you look up and see a lush garden. This creates a powerfully peaceful and tranquil environment. Try planting bright green grass around the concrete or stone surrounding your pool to mimic this effect.
Succulents make great poolside plants. Try agave, aloe, and yucca. They don't require much maintenance – and if you already have a pool, you know how much maintenance a pool requires! Succulents love the heat and are easy to grow in full sunlight.
Avoid planting large leaved plants by your pool because they can cause litter. This clogs the pool filter – adding another chore to your already long list of duties! Make sure you plant or place your potted plants at least 6 to 8 feet away from the edge of the pool to avoid debris getting into your water.
Install a Poolside Structure
Your outdoor space isn't your pool. Create a space that has various "outdoor rooms" or sections. Installing a poolside structure like a Gazebo, Ramada, or Pergola creates a refuge from the water and other backyard hustle and bustle.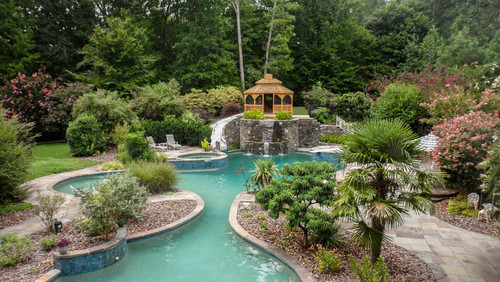 If you thought this was a resort, well, you're wrong! It's actually one of our customer's backyards in North Carolina! Long, lazy days are spent in this pool shown here with a curvy shape, superb landscape design, and a craftsman style Double Roof Oval Gazebo from Fifthroom.com.
Overlooking the entire area, the Gazebo is the perfect spot to "get away." Gazebos also provide incredible shade and a spot to dry off when you climb out of the water.
Enhance Your Pool Area with Underwater and Poolside Lighting
Add color to the inside of your pool with affordable LED Lights. Underwater lighting gives off a resort style feel – making your guests feel relaxed and taken care of. LED lights come in all your favorite colors – blue, purple, green, etc. And, they are more efficient than traditional lighting. LED lights are better for the environment and will save you money in the long run.
Don't forget about lighting around your pool! Consider adding soft lighting around your deck, outdoor structure, landscape elements and pathways. Create instant nighttime eye candy and entertain longer with sustained light. And, light-seeking bugs will stay away from the water and you!
A great pool space also has comfortable seating and outdoor storage space. Fifthroom.com has everything you need for this pool season from outdoor structures to furniture to lighting.