One of the hottest trends in decorating today is using reclaimed wood.  Arising from the desire of people to be more "green" and eco-conscious in their décor, the use of reclaimed wood is a natural result of the need to "reduce, reuse and recycle."
One fun way to incorporate reclaimed wood into décor is through the use of old shipping palettes.  They can be formed into many fun and creative projects that will add interest to your décor for pennies on the dollar. For instance, palette wood can be used to create a backdrop for a smaller art piece such as the cardboard deer head above.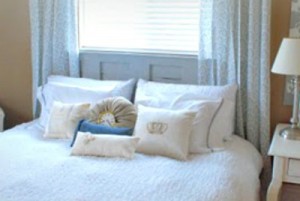 Reclaimed wood can be used to create flooring or furniture as well.  The great part about this is that it lends instant age and patina to a living space.  The headboard pictured above was created with old wood found in the storage space of the basement in our previous home.Reclaimed wood can also be used to add texture to walls or to make existing cabinetry more interesting.
When considering the use of reclaimed wood for a space, realize that it takes a bit of patience.  The very fact that the wood has been used previously can mean that finding pieces in sufficiently good condition to use can be a bit time consuming.  But the end result will be worth it.  Not only will you be "on trend" in your decorating, but you will be earth friendly at the same time.
~ Wendy Hyde
www.shabbynest.blogspot.com