Have a beautiful garden you wish you could spend more time admiring? How about that spectacular view from your back yard? There's no better way to enjoy any fabulous outdoor space than with the proper garden bench.
Garden benches are the ideal way to enjoy a flowering garden, a pond or even a mountain view from your back yard if you're lucky enough to have one. But don't be fooled by the name. Garden benches aren't just for the garden. All you need is some open space and a view, and a garden bench can help enhance your enjoyment of that space.
Before you select a bench that's right for you, first decide where you wish to place the bench. Ideally, a dry footing is best for placing a wooden bench, especially if you wish to enjoy it year round. A gravel bed or paving stones can help provide a firm and dry foundation, helping you to enjoy your bench for many seasons.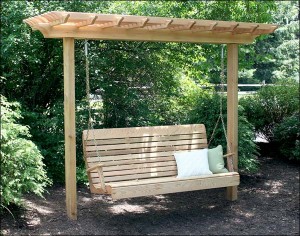 Next, consider placing the bench near some shade, or adding a shade covering to the bench. While sitting in the sun can be a pleasant experience, sometimes you can get too much of a good thing! If possible, place the bench under or near a shade tree. Don't have access to a shaded tree? Consider adding a pergola or other covering to your bench.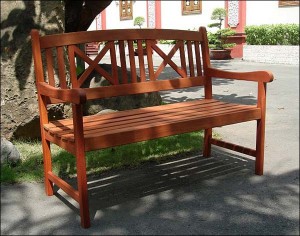 There are a variety of benches you can choose to accent your outdoor space. Need help choosing? Consider consulting one of our knowledgeable project advisors by calling 1-888-293-2339.
~Shari Berg