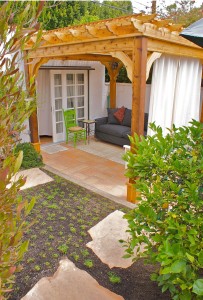 One of the most effective ways to add instant beauty to your garden is to build or install a pergola. These structures come in a variety of shapes, styles, and materials, and can be covered with vines or flowering plants to enhance their visual appeal.
But because of the number of options available, it can be a bit difficult to select the right product for your backyard. That's why we've put together this list of factors to consider as you shop for the best pergola at FifthRoom.com.
Location: Where do you want to install the structure? Some people put pergolas in the middle of the yard, others select a corner, and still others build them right against the house.
Sun exposure: Pergolas are able to provide shade as well as beauty, so it's important to limit light exposure by keeping the direction and path of the sun in mind before you build.
Size: Do you want the structure to dominate the yard or are you willing to settle for something smaller? Either way, take precise measurements to ensure a proper fit.
Shape: Most pergolas are rectangular or square, though circular and hexagonal designs are also very popular. Selecting a shape comes down to taste, as well as the amount of yard space taken up by other garden furniture and the kind of area you want to cover.
Materials: Durable, weather-resistant woods such as white or red cedar will yield the best results; however, stone, brick, aluminum, and fiberglass are also viable options.
Budget: Figure out a dollar amount that you're willing to spend on the project, and then stick to it.
By taking the above elements into consideration, you can narrow down the possibilities and make your hunt for the perfect pergola much easier. Once you determine the kind of structure you want, simply head on over to FifthRoom.com to make your purchase.