We can spend hours scouring the internet, home design magazines and even the aisles of home improvement stores finding the right items to furnish our outdoor retreats. Tables fit for a feast, comfortable lounge chairs complete with cushions and maybe even a few garden trellises or benches to spruce up the garden.
One area that often is overlooked when planning an outdoor space is lighting. With the right kind of lighting, you and your guests can enjoy any outdoor space during the day or night.
Before choosing any lighting, take some time to decide what it is you wish to accomplish with the addition of lights. Do you want softer lighting that will create a romantic ambience during the evening hours? Or do you want bright lights that will provide added security?
If romance is what you're going for, then consider adding candlelight to your outdoor area. There is a variety of ways to display candles outdoors to create an aura of romance. One of the more popular ways trending this summer is a candle chandelier. Using an old chandelier, load it up with candles of any color. The chandelier will eventually rust due to outdoor conditions, but in the meantime, it will create a beautiful and romantic source of light.Going for a more rustic look? Consider using oil lamps. They can be placed anywhere outdoors, and create as much or as little lighting as is needed.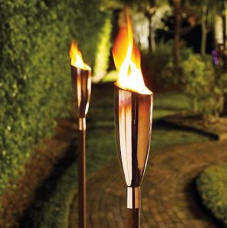 Looking to light up your garden? Pathway lighting is great for illuminating a garden path or other outdoor area you wish to feature or that may be used by you or your guests after dark. Tiki torches are a unique way to achieve lighting in these areas. Want a more traditional lighting source? Consider using a pathway lighting kit like this one. They are easy to install and will provide just enough lighting for any outdoor path.
Flood lighting is ideal for security purposes, so if that is your goal, consider this option. Choosing flood lights with motion sensors is your best bet, as the lighting will only be activated should the sensor detect movement.
Not sure what kind of lighting you want? Consider speaking with one of our qualified project managers, who can help you to plan your outdoor retreat, complete with proper lighting.
~Shari Berg