What's more romantic on Valentine's Day than showing the one you love an entire garden of flowers surrounding an outdoor structure? Forget the bouquet of red roses and the heart-shaped Russell Stover box – those are for amateurs! You're a passionate lover and your other half deserves the best. Here are some tips from Fifthroom.com to help you recreate a romantic garden:
It's still February…
And, that means it's not the prime time to plant. But, what you can do right now is maintain your trees and shrubs by making sure ice and snow aren't building up (if you live farther north). A simple brushing off will do the trick. Whether you live in a warmer climate or not, you'll want to prune branches of forsythia, crabapple, or other spring flowering shrubs. Now is also the time to take advantage of pre-season sales at your local garden center! I saw seed starters hit the shelves weeks ago!
Add a Belle Gazebo:
Doesn't this gazebo just scream romance? Show your valentine how much you care by adding one of Fifthroom's Vinyl Hexagon Belle Gazebos to your backyard.
The concrete statue, bench and pink and red flowers add depth to this very romantic scene made for two lovebirds. Try planting hot pink dahlias or classic, red roses. If you live in Pittsburgh, like me, you may want to hold off until Spring to start planting.
Set the Table
By this point, you've performed some maintenance on your yard and added a beautiful outdoor structure like a Gazebo, Pergola or Arbor to invite your sweetheart in. You've spent time and effort to make it a romantic destination, so you should set a table and chairs for a dinner for two!
We love this scene by Interior Designer Moll Anderson. It's not stuffy like a steakhouse you would have maybe brought your date to! This dining area is fun…and romantic! We recommend you bring your best dishware set outside and a pair of classy, antique chairs. Make sure to don your best outfit and treat your Valentine to a wonderful meal – after all, you deserve to relax after the work you put in!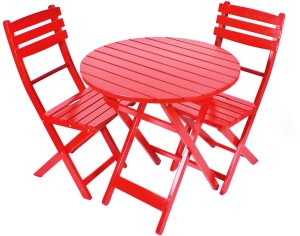 Fifthroom's Eucalyptus Bistro Set in Red is perfect for this evening! It reminds me of a set I would see on the side of a restaurant in Rome, Italy – one of the most romantic destinations in the world.
But, it doesn't have to be Valentine's Day to show that special someone you care. Head over to Fifthroom.com where you can choose from a variety of outdoor structures and h