A relaxing afternoon under your pergola! Fifthroom.com has many styles to choose from.
As the harsh summer sun beats down upon the neighbors' yards, you and your family can enjoy welcome respite from the heat under your pergola!
The design of a pergola is fairly simple… it's a shade-creating garden structure comprised of sturdy boards, crossbeams and lattice. Once you've got put these elements together, add vines and climbing plants for even more shade-loving beauty!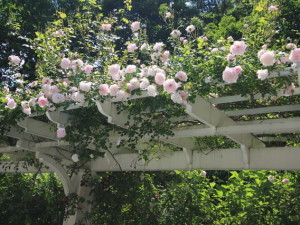 (This blog has some good advice about which plants are the best climbers: http://balconygardenweb.com/best-pergola-plants-climbing-plants-for-pergolas-and-arbors/)
Through the years, pergolas have been used to create shade over walkways, between walls in the garden, or as a sheltered spot next to a building. Often they're attached to homes so you can have your brunch or dinner on the patio, and sometimes they're freestanding outdoor structures that provide a bit of protection from the sun out in the garden or by the pool.
Often, pergolas and arbors are referred to interchangeably – as both can employ climbing vines in their design. But arbors are generally small, with a roof and sometimes a built-in seat, and lattice panels as framework for the plants. A pergola, however, is quite a bit bigger and much more open.
Example of our Red Cedar Canterbury Arbor w/Bench & 2 Wings
For a bit of inspiration for your garden plans,
here are some lovely pergolas from around the world.
Rose pergola at Kew Gardens, London
Daniel Case
Pergola covered by Bougainvillea, in a park in Santa Cruz de Tenerife, Canary Islands.
CC BY 3.0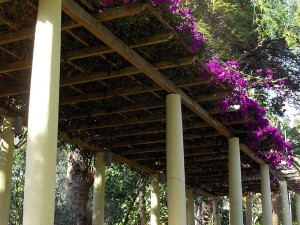 Etan J. Tal – Alley in center of Koilani village (Cyprus)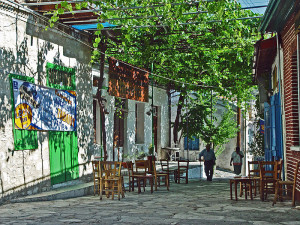 And now, some of ours:
Wall mount Pergola is exactly what its name says — and it's an easy way to add outdoor space!
Small (10×10′) 4 Beam Cedar Pergola makes a fantastic extra outside room
Want to be able to enjoy your pergola space even when it rains? Fifthroom.com has you covered!
For more details, see our website.
Rain or shine, get more use out of your pergola, by adding a Retractable Canopy System that is custom-sized out of state-of-the-art outdoor fabric.