"Where's your wedding going to be?" That's often the first question someone asks after they hear that you're going to tie the knot. And it's a good question! Where indeed? At a church? Under a chuppah? In the great room of your house? On the beach? In a fancy barn? All of those are great choices, but a stunning gazebo wedding is a really popular alternative! So let's look at some of your options! Gazebos not only make great venues for the actual ceremony, but they can also be utilized for your reception (if they're large enough) or just as a beautiful place to take your wedding photos. (Note: if you're going to get your photos or videos shot in a park, don't forget to get permissions first — so that you don't end up stumbling into someone else's wedding! Oops!)
One of the great things about a gazebo is that, in many ways, it's a blank slate. You can start with the simple structure itself and then dress it up in a million ways to match your individual style. Many hotels, inns, resorts and wedding venues have gazebos on their grounds — and they'll go out of their way to make the experience unique, from strings of dazzling twinkle lights to colorful outdoor draperies and elaborate floral arrangements. Your special day will not look like anyone else's!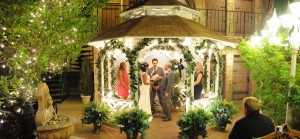 So why are gazebos so popular these days? Well, for one thing, they aren't new. They've been a popular place for people to gather for a long time. The original "bandstands" came out of the United Kingdom, as a response to the ever-encroaching industrialization in that corner of the world in the late 1800s. Civic leaders sensed a need for places where the public could go to relax in a park-like setting — and the bandstand thus became a focal point — and of course, a place for small bands to play music, in those halcyon days before radio and Spotify!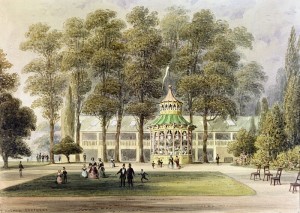 That movement came to the U.S. not long after. There was an increasing interest in military music, which grew in popularity after the Civil War and bandstands thus began popping up in public parks all around the nation. They provided protection from the weather and a raised platform, so that the musicians could be seen by those in attendance.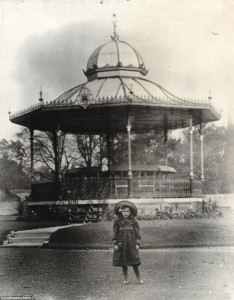 And that brings us back around to why a gazebo can be ideal for a wedding; rain cover and a good view for your wedding guests! We doubt you'll have a brass band playing John Philip Sousa marches, but the idea is the same. Of course, in this case, you'll be the stars of the show! So, let's imagine for a moment that you really, really want to have a gazebo wedding but you don't have a gazebo! Well, yea, that could be a problem — or not. Fifthroom.com has a huge selection of gazebos in many styles, which can be customized to your precise specifications. Not only do you get a new gazebo on your property, but also you'll have a lasting memory of your wedding day forever. Or maybe you don't even have a house and property yet, but your parents or future in-laws do. Hmmm. Maybe it's time for them to install a new gazebo for your wedding — and then have one of these amazing shelters as part of their outdoor living arrangements for years to come! Let's look at some of your options at Fifthroom.com: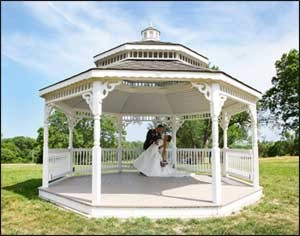 First off, you'll want to consider the size and shape of your gazebo. Many people think of the classic gazebo as an Octagon (eight-sided) — but we also feature Hexagons (six-sided) Oval, Rectangular and our very lovely Elongated Hexagon Gazebo. Every one of these structures is available in different basic materials, such as red cedar, treated pine and vinyl, so you and your family can match the look of your home and other out-buildings which you may already have in place. And you can use our award-winning online Design Wizard to walk you through every single detail of your gazebo, so that (like your other wedding plans!) you can make sure that it's just right for you.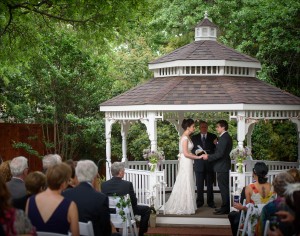 Here's one more tip. Make sure you get your order placed in enough time to get your product shipped and installed. We pride ourselves on speedy delivery, but these are large structures, so it can take a 2-4 weeks to get it to you. And, once there, you'll need to make sure someone can put all the pieces together — long before you walk down the aisle, bouquet in hand and say, "I do!"