From landscaping to pergola and gazebo decorations, these pinners have everything you need to jump-start your outdoor design creativity.
Pinterest launched in 2010, and in a period of five years, has reached more than 47 million pinners world-wide, including us. It allows us to collect ideas and share outdoor projects quicker than ever before. Here are our top 10 Pinners to Follow for Outdoor Inspiration.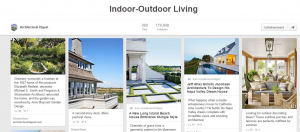 You can follow Fifthroom.com on Pinterest to see what we're pinning and be inspired to beautify your outdoor living areas. Or, if you're ready to buy some outdoor furniture, head over to fifthroom.com.