You've probably thought about owning your own gazebo at one point or another, especially if you wanted to enjoy the outdoors with friends and family or make your outdoor living space truly exceptional. With all of the unknowns that may have crossed your mind, you may have thought that the effort might not be fruitful, but Fifthroom.com has made the process rather easy.
There are a lot of gazebo styles out there and you don't have to get trapped in someone else's vision. With our Award-Winning Design Wizard, you can try out different styles and options right on our site without having to commit. Save your custom gazebos, get a feel for prices, and get inspired all without having to really get involved. But, if you do find that you're ready to bring your design to life, the option to get a free quote is available as well as the opportunity to reach out to our friendly Project Advisors to help you get the process started.
There are many benefits to the different materials and options that you have at your fingertips, and all of this information is mapped out for you so you won't have to feel left in the dark. You also have a range of sizes and shapes to choose from as well as decorative details that you might not have otherwise considered.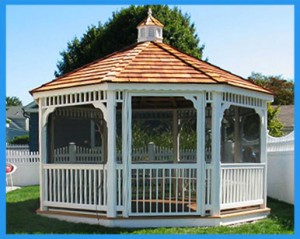 Vinyl Single Roof Octagon Gazebo
If you're interested in getting a gazebo of your very own, here are some things to think about:
Our gazebos can be customized to fit nearly anywhere. Don't settle for a structure that is too small or too big just because you didn't realize that there are options to get the perfect fit. With round gazebos, rectangular gazebos, oval gazebos, and more shapes, you can decide what kind would be best for you, all without the pressure of having to decide right now. Design your gazebo to fit your outdoor living space instead of making your outdoor living space fit your gazebo.
With a variety of materials, you can choose certain looks and benefits. Our Red Cedar Gazebos have a pleasant aroma and resist bugs and decay, while our Vinyl Gazebos are maintenance-free and perfect for families with kids. Our Treated Pine Gazebos are our most economical option but don't sacrifice quality. Look into the different materials to find what fits your needs best. The information is all included on our website.
Gazebos don't have to be just garden structures, they can work well next to pools or over ponds, too. There are so many creative places to put gazebos while still maintaining their functionality. They can give shelter from both sun and inclement weather, so using them to enhance features of your outdoor space isn't out of the question.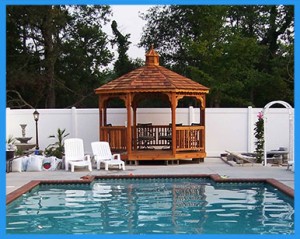 Red Cedar Single Roof Octagon Gazebo
In all seasons, gazebos can be used. Whether for a hot tub in the winter time, a place for parties in the summer, potting flowers in the spring, or watching leaves fall in the fall, gazebos are great places to experience the outdoors.
These structures are great for gatherings and you can select the size and type that would best accommodate your guests. By considering floor space and types of furniture, you'll be better prepared when the time comes to enjoy your space.
Other great options to consider when planning for the use of your gazebo is whether you'd like it to be a fully functional outdoor space or simply just an earthy structure. By selecting options such as electrical wiring, ceiling fans, lighting, and screens, you can literally turn your gazebo into an outdoor room. Benches can even be included into the structure of your gazebo so you won't have to worry about adding them later.

Treated Pine Single Roof Octagon Gazebo
These structures are the perfect place to entertain as well. As they are often seen in public places promoting a sense of gathering and community, you can bring that inclusiveness right to your outdoor living space. In the confines of this structure, you can hold more than conversations. Having cookouts and enjoying meals can be just as possible as playing games and telling stories. You can stay up late into the night completely forgetting that you're outdoors simply because your gazebo gave you a sense of security.
These structures are also very stylish and beautiful. Even though gazebos can stand alone, you still have the option to match your gazebo to your outdoor theme.
Your property value could also greatly benefit from putting such an awe-inspiring structure in your yard. Gazebos are often considered a highlight and if you're looking to move, the structures won't go unnoticed.
Now is a great time to start planning for a gazebo, whether you'd like it to be installed in the near future or next season, getting the process started early is always wise. Visit Fifthroom.com to learn more.