Have you ever wondered when rocking horses came into existence? Well, this enchanting toy, in its current form, is believed to have first appeared in the 17th century and since then, rocking horses have been a constant staple of happy childhood memories. At Fifthroom.com we have a treasure trove of beautiful rocking horses for you to choose from just in time for holiday gift giving!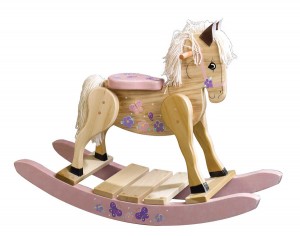 One of our most popular rocking horses is our Rocking Horse with Padded Seat. It is lovingly handcrafted of solid oak and is most reminiscent of the rocking horse we all had as kids. You'll love this horse's life-like details — the bridle on the horse's nose, the soft white yarn mane and tail and its leather ears and seat.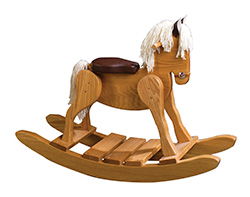 Our Wooden Balloon Painted Rocking Horse is a beauty! Made of poplar, this rocking horse comes in a variety of colors including blue, green, red and pink.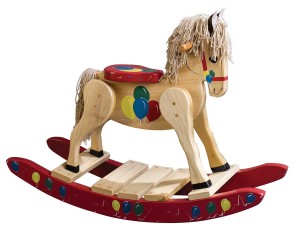 For the sports loving toddler, we've got a Wooden Sports Painted Rocking Horse with colorful sports graphics painted on the side. This rocking horse is made in the USA of sturdy poplar and will last for several generations to come.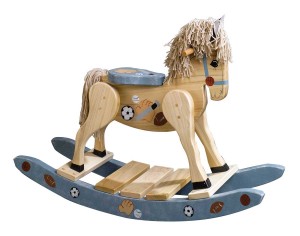 Our Wooden Flat Seat Rocking Horse is simply a classic and is sure to provide hours of fun for your child. Safe and sturdy, it has beautiful details like pastel colored yarn for the mane and tail and leather–like material for the ears.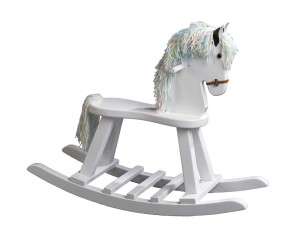 Rocking toys offer endless hours of creative play and also help children develop balance, coordination and strength. A Fifthroom.com rocking horse will bring years of fun to your kids and very probably to your grandkids-to-come as welll! Each rocking horse comes pre-assembled and ships for free. But, order now if you want one for Christmas. These beauties take 3-4 weeks from order to arrival.