In just a few weeks, it'll be time to plant some annual color, both in containers and in your planting beds. And, unless you want a crazy-quilt cottage garden featuring every color in the rainbow (and hey, those are good, too!), most people want to choose two colors that will pop. But which two? If you're ready to step outside the norm, here are some eye-catchers to try:
Red & Purple There is something a bit Monet-ish about this combination that makes it classic and yet slightly unexpected. These colors are great against white brick or stone houses, as well as houses with a neutral brown or tan brick. Try red geraniums and purple petunias, or red pentas and purple lantana.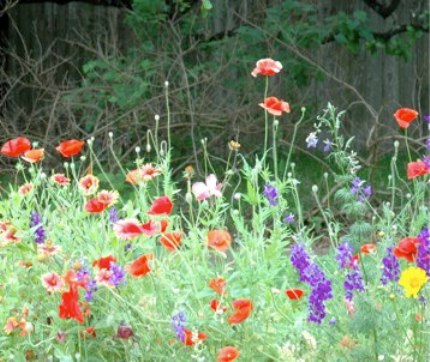 Orange & Lime Green These two colors will give your garden a citrus-y tropical feel, guaranteed to jolt you awake. If you're really feeling daring, throw some purple in! Proceed with caution, though—if you have a brick house in pinkish or orange-red tones, this combination might seem garish. Orange zinnias and chartreuse sweet potato vine will do the trick, as will orange marigolds and lime green creeping jenny.
Red & White To avoid this combination seeming "been there, done that," add some silvery-green in the foliage to liven things up. Red and white works well with neutral or red brick houses. Red and white impatiens with variegated liriope will work perfectly, or try red geraniums with white lantana.
Silver & Purple This combination is classy but never dull. I think silver foliage with nearly any color instantly creates an elegant but modern feel.  Silver and purple are great colors for homeowners who have that tricky pinkish, salmon or orange-toned brick. Try silver and orange or yellow for an even more updated color scheme! Purple petunias and silver pony foot are are a great choice, as are silvery dusty miller and ageratum.
Be daring, take the plunge and try something new! Even garden flowers need a little updating every now and then.