While strolling in your garden or across your lawn is great fun, so is sitting down occasionally. And there is no better place to relax than on a stylish garden bench. Of course, what's also great is that there are so many styles to choose from. No matter what your outdoor space looks like, you can find a bench that matches your home and your personal taste perfectly at Fifthroom.com.
Wooden Garden Benches.  Probably the most common, classic bench is one made of wood.  Since they are constructed of this natural material, they tend to blend into the outdoor scene perfectly.  For many benches, cedar is the wood of choice as it naturally resists rain and rot and will last for a long time with very little maintenance.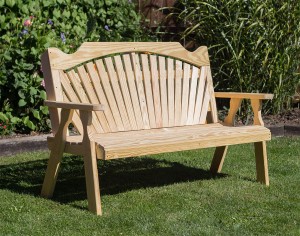 Concrete Garden Benches. Looking for a bench which blends beautifully into any landscape? Concrete benches have many advantages. They come in a wide variety of styles, shapes and colors and are extremely durable. Low maintenance and weather-resistant, concrete benches won't fade or blow over in the wind and rain. Yet, durability is only part of the appeal of a concrete bench. With its look of natural stone, concrete benches are a subtle yet elegant addition to your garden and fit in with every architectural style from colonial to contemporary.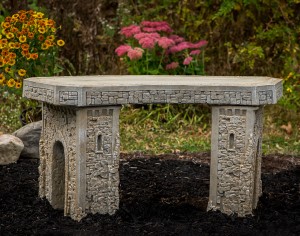 Metal Garden Benches. Metal is a great choice for garden benches because of its strength, durability and versatility. Built to endure years of use and even the worst kind of weather, metal is often selected for benches which will be placed in public parks and gardens. Coated metal is a popular option because it combines superior comfort with an elegant, contemporary look and comes in a wide variety of colors and styles. Or, you may prefer the look of our aluminum benches which are not only attractive, but also resistant to warping and rusting.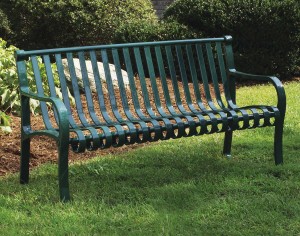 Whether your taste runs to wood, concrete or metal, you can find the perfect garden bench to accessorize your home or public space at Fifthroom.com. Need a little guidance about what will work best for your landscape or garden? Our staff is happy to help you any time by phone, chat or email.