My favorite part of designing any outdoor space is when I get to choose the finishing touches. There are more and more choices on the market today for you to select from. Time and time again, it is the finishing touches that have the significant outcome on a decorating project. Accessories, fabric, art and gems of all styles are what will give your outdoor living space its exceptional personality.
The very first accessory I hand pick is the outdoor rug. They come in all shapes, sizes, colors and patterns.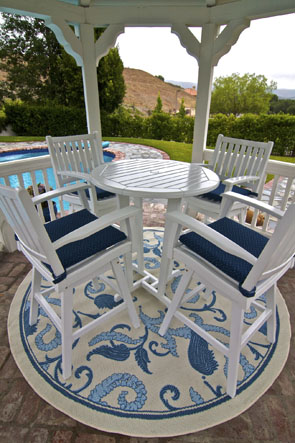 In this photo, I chose a round blue and white outdoor rug, in a scroll leaf pattern to coordinate with the blue polka dot fabric on the seat cushions and the cool blue water in the pool.  The white bar height table is perfect for this round white gazebo, the rug warms up the brick floor and is inviting.
This photo shows off many of my favorite touches, outdoor drapes, outdoor throw pillows and the addition of an outdoor throw blanket. The throw blanket provides warmth, color and added texture and style to an outdoor seating area.  The drapes supply privacy and protection from the sun as they create a lovely appearance.
Finally the throw pillows magnify the expression of comfort and sophistication. I especially love the extra large bolster pillow at the foot of the chaise.
In this photo, Sunbrella ties the colors of the accessories together to accent the outdoor living space. This tranquil teal outdoor rug complements the throw pillows, throw blanket and table top accessory.
Even my Chihuahua, Tuxedo, loves the comfort of the soft cozy throw blanket and the cushion of the throw pillow as he relaxes on an ordinary afternoon.
Beautiful flowing outdoor drapes dress up this outdoor pavilion. The colorful designer throw pillows have fringe trims, matching cord and tape similar to those found for the interior of your home. The outdoor throw pillow does not have to be a standard unadorned pillow; it can be extraordinary by putting the finishing touches into the design.
It is so important to spend the extra time to give the attention to detail that is necessary to create a unique and unforgettable Outdoor Living space. Add those finishing touches and you will be surprised at