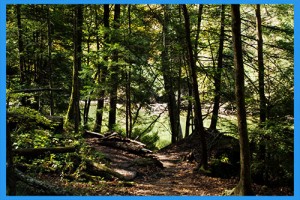 Some of the greatest places to experience the outdoors rely not on man-made retreats but earthbound formations. A great example of the latter is McConnells Mill State Park, located in Lawrence County, Pennsylvania. It's a forested area near Slippery Rock University that features a restored watermill, covered bridge, and a scenic gorge. This park has countless opportunities for adventure with its rigorous boulders and lush foliage. Slippery Rock Creek also runs through it, creating gorgeous waterfalls and scenic views.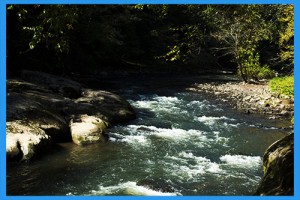 Upon visiting McConnells Mill State Park, you'll notice that there are multiple trails, including Alphapass Trail, Hell's Hollow Trail, Kildoo Trail, and the Slippery Rock Gorge Trail. These trails range in length and difficulty but each offer sights that can't be beat. The trail system is part of the North Country Trail, which is part of the National Scenic Trail. The National Scenic trail runs from North Dakota to New England and is the nation's longest trail.
While hiking along the Slippery Rock Creek, you'll find a watermill for which the park was named. Though the area is open daily, the mill is open on a limited schedule.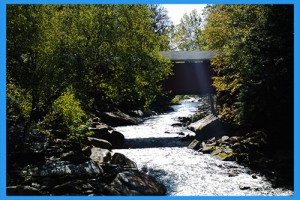 You'll also see a covered bridge, one of two in Lawrence County. It was built in 1874 and is a Howe truss bridge. It is listed in the National Register of Historic Places. Be careful, though. It's rather narrow and cars do take turns driving through it. You may want to be extra cautious in this area because it often has the most foot traffic as well.
The State Park also offers other forms of recreation including rock climbing, repelling, whitewater boating, hunting, and fishing. There are two repelling areas that are recommended only for equipped and experienced climbers. Of the two, the more difficult area to repel is at Breakneck Bridge.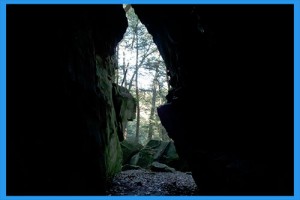 Because hunting is permitted, all hunters are expected to follow the rules and regulations set forth by the Pennsylvania Game Commission. Some of the common game species in the area include rabbits, turkey, white-tailed deer, and ruffled grouse. If you're more into fishing, the Pennsylvania Fish & Boat Commission ensures an abundance of fish for anglers in the Slippery Rock Creek.
The mill continued processing until 1928 when it closed and the land was transferred to the Western Pennsylvania Conservancy and later to the Common Wealth of Pennsylvania. In 1957, McConnells Mill was formally dedicated as a State Park and has continued to be open to the public since.
Much of the park's landscape is rugged and mountainous because of the geology of it. Bedrock of the park is said to be over 300,000,000 years old and was made through the compression of sand, mud, and peat. This area also may have been coastal at that time but mountains formed as the Continental Plates shifted. Erosion began to take place and many layers eroded at different rates. Those rates would explain the variety of geological features throughout the park.
And, as always, when creating an outdoor escape in your own backyard, the best place to start is Fifthroom.com.