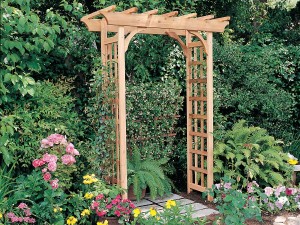 If you love your garden as much as I do, then you're always looking for new ways and new places to show off your flowers. Climbing vines add a special dimension to the garden in all seasons and come in a variety of colors and heights — and are perfect for sunny or shady spots, depending on the cultivar.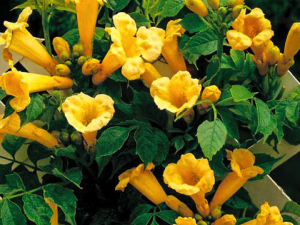 A "can't miss" flowering climber is the trumpet vine which is especially hardy and has the added benefit of attracting hummingbirds to your garden. It may take up to a year for your trumpet vine to become established, but once it is, it will become a consistent burst of color on your trellis or arbor.  Trumpet vines are ultra-easy to grow — flourishing in any soil and often reaching a height of 30 ft. or more.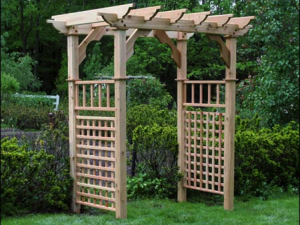 Wisteria is another popular flowering vine and, when trained to climb a vertical structure like a trellis, can make a dramatic statement in a garden or yard. Wisteria live a long, long time and can become quite heavy, so it's important to start them on a structure which is not only beautiful but also sturdy enough to handle this vine as it grows, such as our polywood Tivoli arbor.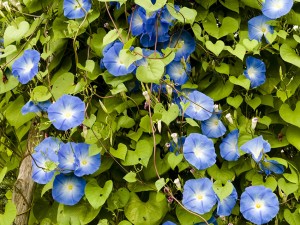 Morning glories are climbers which come in true blues as well as shades of pink, purple and white. They have a beautiful shape as they unfold in the sun along with gentle tendrils which add to their old fashioned charm. They can bloom from early summer to first frost and grow to heights of 10-15 ft. Pair morning glories with moonvines on your Red Cedar Canterbury Arbor or our Wrought Iron Swirl Trellis so that you have non-stop flowers blooming from early morning into the evening.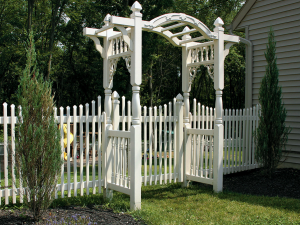 Flowering vines need sturdy structures to give them shape and support. Fifthroom.com has a wide variety of trellises and arbors which can complement any climber in any garden. Our trellises and arbors come in a variety of styles and materials and are really simple to assemble. Get one today and get growing!