In America we call them a chaise lounge, which is a bit of a twist on the original French term "chaise longe," which translates to "lounge chair." But whether you're in Paris, Texas or Paris, France, the classic chaise lounge is always comfortable! And Fifthroom has one that will surely become your favorite way to stretch out, relax, sunbathe and maybe even catch a nap. So how do you choose from our wide selection? Well, here are a few to whet your appetite and don't forget to check out all your choices on our site.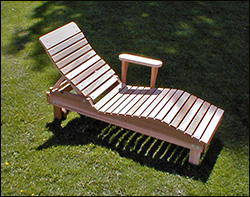 Let's start with this great Red Cedar Highback Contoured Chaise Lounge. This is so comfortable that it's Recommended by the Academy Of Chiropractic Physicians and includes a subtle lumbar support for your lower back. It adjusts to several positions and we can easily stain it for you and also add an additional arm and stainless steel hardware. After all, we are all about customizing your furniture!
Another great choice is the Polywood Shell Back chaise which comes in 13 colors. By the way, Polywood is a composite material that is virtually maintenance free, so, along with the stainless steel hardware, you can spend years enjoying your chaise, not worrying about taking care of it.
Have your heart set on something sleek and stylish? We have you covered! Check this out!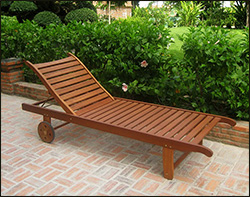 The Fifthroom Eucalyptus Chaise Lounge is really a work of art. The wood in this chaise is grown only in well-managed forests and is certified by the Forest Stewardship Council. But aside from its environmental cred, this chair features three reclining positions and offers you wheels, so that anyone can easily move it. Match it up with some of our other high fashion outdoor chairs and tables for a complete, unified, trendy look.
Summer is just around the corner so pick your "chaise of choice," stretch out and relax!