Storage.  It seems to be an issue in even the roomiest  of homes.  So how does one conquer a lack of storage while still creating a home that feels more like a home, and less like a shed?  Try using these three hard-working and versatile pieces that look as good in a living room as they do in a bedroom.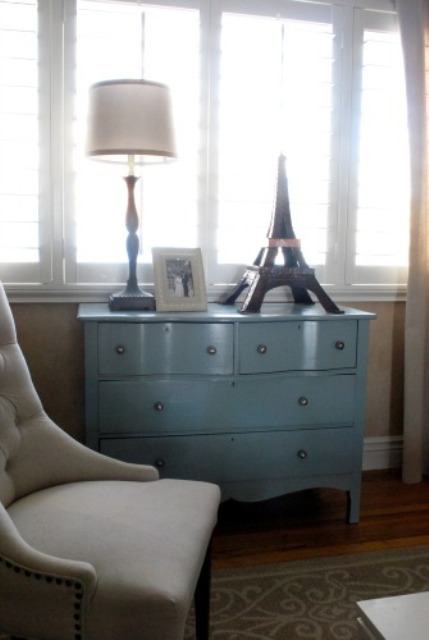 A pretty dresser.  Most people relegate dressers to the bedroom, but try using one in the living or dining room.  They make great storage for everything from table linens to a CD or DVD collection.   A  dresser can even be used as a charming serving table or wet bar.
A tall cabinet.  Whether your tastes lean more towards vintage or modern, you're sure to be able to find a cabinet that suits your home's aesthetic.  Try using one as a linen closet.  Perhaps you can place one by the front door, outfit it on the inside with hooks,  and use it as a makeshift mudroom. Or try it in the bedroom as a clothing armoire.  The possibilities are endless.
A vintage buffet.  Move that  buffet out of your dining room.  In the family room, it makes a great entertainment center.  Use it in the living room or foyer as an entry table.  Buffets also make fabulous family launch pads.  Use the drawers to store items frequently accessed by family members including phone numbers, take out menus etc.  A dish on the top for keys,  a basket for the  mail, and a boot tray beneath make it the perfect landing spot for those entering or leaving the house.
Sometimes we all get stuck in a rut when it comes to how we use our furniture pieces.  But if we think outside the box, and use a little bit of creativity, pieces like the three mentioned here can take on new lives and serve well in unexpected places.