Unbeliveably, we are already looking at the end of 2022. Before all the holidays arrive with the commotion and festivities, I like to review the past year and get organized for the next. Doing so helps me to stay on track, budget accordingly, and also look ahead and plan smartly. I am one of those organized list-makers, so I created a to-do list for the end of the year. I hope it helps you, too! Of course, alter it so it best fits your life and your family. If you feel overwhelmed looking around your house (or life!), let's get it organized!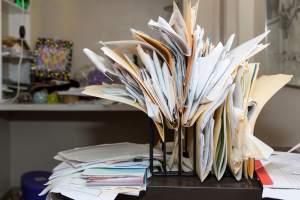 End of 2022 To-Do List:
Review your budget and spending from last year and set new fiscal goals.
Settle fines, tickets, library fees, etc.
Make charitable donations (and don't forget those tax breaks).
Clean out medicine cabinets, "junk drawers," and bathroom drawers.
Clean out your freezer and fridge. What is that thing in the container in the back?
Organize photos, transfer them to a computer, and create a photo book or two for 2022.
Return everything you borrowed and ask for the return of your borrowed items.
Pick one fall/winter project and tackle it. (For me, I need to get a cabinet and properly organize my art supplies.)
Declutter holiday decorations before or as you put them up.
Figure out what tasks need accomplished at home this year and what you want to tackle next year.
Read through your journal, review your year, and see what worked well. No journal? There's a goal for 2023!
Get your new journal, planner, and calendar for 2023. Add in important dates, birthdays, and appointments you already know about.
Go through your cell phone and edit those contacts to who you actually communicate with.
Make goals for 2023. How do you envision your life and what steps can you take to make it reality? Little goals become huge milestones, so there is no goal too small.
Plan your holidays and time off now so you're more likely to get the days you want.
Revisit your household schedule and amend it so you everyone has free time or, at least, more free time.
Tackle the thing! Whatever your looming thing is, the thing you dread, do that. If it's a large project, break it down into steps, enlist help if you need, and make a timeline so you stay on track. Don't carry your dreaded project over into 2023.
Here are some free to-do list templates, both printable and online, if you feel fancier than a notebook page or Word doc. Happy organizing!