By investing in these essential gardening tools, your shed will house everything it needs to keep your garden beautiful and growing.
Before you can begin to garden, you'll want to have the proper tools. Here, we'll list which ones will work for the beginner so that you won't have to find yourself unprepared.
Gardening Gloves
Gardening is enjoyable, but also can be painful. To ensure that you are truly prepared for what's to come, you'll want a pair of gardening gloves that are durable but not too bulky. You'll want to make sure that your gloves properly fit your hands because this can help prevent blisters. Strong gloves that still give you the ability to manage seeds are ideal. Gloves with longer cuffs also keep dirt from getting in and enable you to avoid getting scratches up your arms. Be sure to keep your gloves stored away safety.
---
Hand Trowel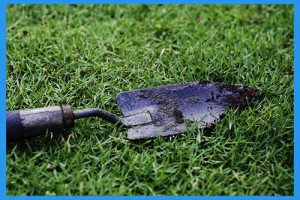 The Hand Trowel is a rather essential gardening tool that is used for transplanting bedding plants and herbs. It is also used for taking out weeds as well as planting containers. There are different types of blades for the Hand Trowel. Broader blades are ideal when moving larger amounts of soil, while narrow blades are used to uproot weeds and dig through rocky soil. When picking out a Trowel for yourself, consider what it was forged out of. Stainless steel Hand Trowels will last much longer and are well worth the value. Also, you'll want to be sure that your Hand Trowel fits firmly in your hand because it can cause you pain and irritation later.
---
Spade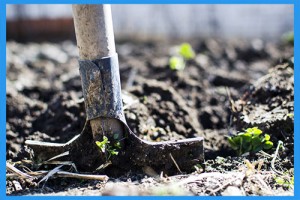 The Spade is a short-handled square shovel used for digging holes for plants, lifting sod, edging, and transporting small amounts of dirt to new locations. Treads at the top of the Spade make for a more stable foothold and is one of the many things to consider when purchasing your own. Handles can vary in size, but it is good to know that longer handles provide more leverage. Because Spades are rather valuable when it comes to gardening, they can be rather expensive. Another feature to consider when investing in one is what type of handle material it uses. Ash hardwood is ideal because it is durable as well as great at absorbing vibrations and shock.
---
Garden Hoe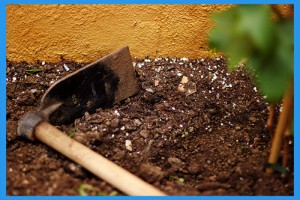 Garden Hoes are used to prepare flower beds and cutting down weeds. Your ideal Garden Hoe really depends on what type of garden you'd like to use it for. If you have gentle perennials, you may want to get one that is thinner and has a more delicate touch. A wide and sturdy Garden Hoe is more ideal for a vegetable garden. When selecting one for personal use, look to make sure that you are comfortable with the length of its handle and reach.  You may also want to make sure that it is consistently sharp as this plays a major role in its effectiveness. Weeding Hoes are used to push the surface of soil back and forth and have a square head. Flat Hoes are often used to turn soil in rows.
---
Garden Fork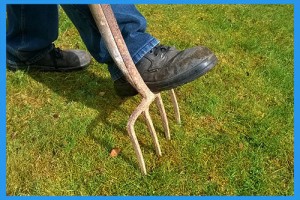 A Garden Fork is used for turning soil and is a good alternative to a Spade when dealing with denser substances. The curvature of this particular tool also has an impact on its performance. Forks with a curved spine are ideal for scooping things like mulch as well as turning compost piles, as a pitchfork would. Forks with straight tines are good for digging and dealing with substances such as clay, rocks, and compacted soil. Square tines are ideal for situations where you may encounter rocks or roots, as it will not bend when it hits them.
---
Watering Can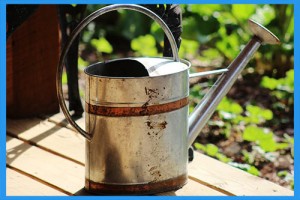 Watering Cans are used for exactly what their name suggests- Watering. There are two basic types that you can choose from- plastic and metal. These cans come in various shapes, sizes and styles but there are some things to consider when you go to invest in one. If you would like a lighter Watering Can, then plastic may be the way to go. But it won't last as long. If you choose to opt for a metal Watering Can be sure to select one that is galvanized to resist rusting. Select a can that will be manageable and easy to carry. A gallon of water weighs a little more than 8 lbs. so you'll need to consider which Watering Can will supply the amount of water you need at the weight you want. Making sure that it functions properly at full capacity is also a wise thing to do before purchasing one. There are two handled styles for those who are challenged with carrying heavy loads. Finally, if you're planning on using the Watering Can for the outdoors, you may want a larger one with a sprinkler head. For indoors, a smaller Watering Can with a long neck is most suitable for houseplants.
---
Rake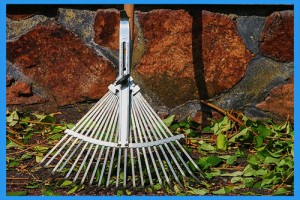 Rakes are used to whisk away debris and leaves and are rather common in the fall. They come in a variety of sizes and styles, but for a beginner gardener, a standard leaf Rake will work just fine. Adjustable Rakes are more versatile than the typical standard ones and can do the job of multiple tools. When considering the Rake most suitable for your intended use, you may want to choose the appropriate tines for your needs. Steel tines are much stronger but are also rougher on lawns. Plastic tines are more suitable for delicate lawns and lighter clean ups.
---
Pruning Shears
Pruning Shears are intended to help manage the overgrowth of plants. There are different types of Pruners including Anvil and Bypass. Anvil Pruners, which cut like a knife on a cutting board, are best used for dead wood but not for living portions of a plant because it can crush their stems. Bypass Pruners, which cut like scissors, are much more suited to trim the living parts of plants and green wood. Be sure to keep your Pruners sharp so that they work most efficiently.
---
Loppers
Loppers are like long-handled Pruners and are used to prune in hard to reach places as well as thicker branches. Because of its long handles, the Lopper has more leverage to cut through branches up to an inch in diameter. The handles also increase the weight of this particular tool, so you'll want to have a plan before wielding it. The length of the handles is generally between 16 inches and 36 inches. Loppers also come in both Anvil and Bypass styles, as well. Keep your Loppers sharp and stored carefully.
---
Wheelbarrow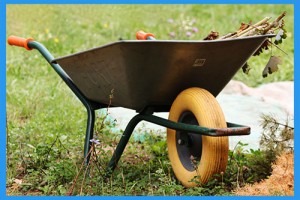 Wheelbarrows are used to haul hundreds of pounds of mulch, compost, and soil from one location to another and are very useful items to have around. When investing in one, you may want to consider how it will function most efficiently. Single wheeled Wheelbarrows and more difficult to balance and can often distribute loads unevenly, so a two wheeled version may be in your best interest. The two wheeled Wheelbarrows are also more capable of navigating uneven terrain more successfully. Traditionally, the one wheeled Wheelbarrow also has two handles as opposed to the two wheeled Wheelbarrow with one handle. With only one handle, you can push or pull the Wheelbarrow more conveniently. Make sure to keep your Wheelbarrow clean and dry when storing. Monitoring the proper inflation of the wheels will keep it operating efficiently.
---
Watering Wand
Watering Wands are useful because they provide extended reach and water pressure control. These wands can be used in high places and corners to gently water plants and often come in a variety of lengths from 10 to 48 inches. The Watering Wand also has built-in valves that allow you to adjust flow and conserve water.
---
Garden Hose with Adjustable Nozzle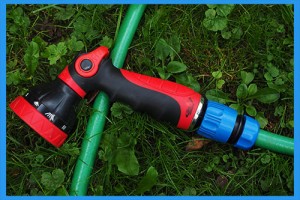 This tool is almost non-negotiable. You will need to water all of your plants because that is key in their survival. Investing in a Hose that can reach all areas of your garden is crucial. Realizing that water pressure is affected by the Hose length is a good place to start when making an investment on your Garden Hose. The longer your Hose is, the lower the water pressure will be. Rubber Hoses last longer and don't kink as easily as vinyl Hoses. When storing yours, make sure to remove all the kinks as they can result in weak spots. Also, keep your Hose coiled up and out of direct sunlight.
---
Now that you have an idea as to what tools you'll need to begin gardening with; you'll be much better prepared and likely more successful. Fifthroom.com has a variety of structures and decor to help assist you in all of your outdoor endeavors, so don't forget to check out our website: www.Fifthroom.com.