A change of seasons is always a great excuse to enhance or transform your decor. The very thought of fall makes you want to move to warmer hues and cozy textures. And, lucky for you, there are dozens of creative ways to use pumpkins, corn stalks, mums and fall foliage to make both the inside and outside of your home season-appropriate!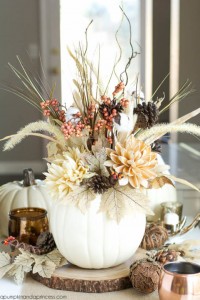 Wreaths. Fall wreaths are especially fun and can give a "pop" of color to your front door. Classic grapevine wreaths can be as plain or fancy as you like. Or, use dried hydrangeas from your summer garden to make a pretty wreath for your door. If you really want your door to say "I Love Fall," use real oak and maple instead of synthetics.
Pumpkins. There's so much your can do with pumpkins, decorating-wise, beyond cutting out Jack-O-Lanterns! Hollow out a pumpkin to make a vase and fill it with your flowers of choice. Put pumpkins of different sizes on your entranceway table or mantle to add a bit of fall color. Or "light things up" on your porch or deck by putting votive lights inside small hollowed out pumpkins. Writing on pumpkins has become popular, too — personalize one for each member of the family!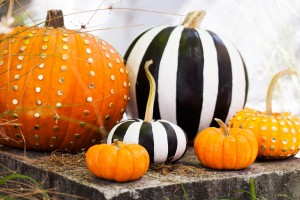 Flowers. Decorating your walkway or front porch with flowers is a sophisticated way to amp up your home's curb appeal in the fall. Use a single variety (like chrysanthemums) in different hues to create a welcoming explosion of color. For a more "homespun" approach, pile asters or mums on top of hay bales at your front door.  For a bit of whimsy, find unusual containers for your fall flowers, like vintage baskets or old aluminum containers.
Corn stalks. The best thing about decorating with corn stalks is that they make a big impact for but cost practically nothing. And, because they make a statement all by themselves, you don't have to add much more (possibly a pumpkin or two) to have the perfect fall porch. Go symmetrical if you like (a cornstalk on either side of your front door) or try a bit of asymmetry by emphasizing just one side of your front porch. It all works!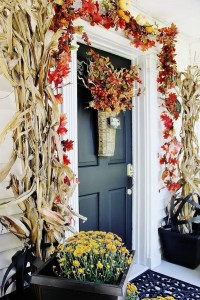 Whether you use pumpkins, flowers, cornstalks or wreaths (or a combination of all of those!) you have endless outdoor decorating options when fall comes along.