Early September means back to school for kids all over the U.S., and it limits the amount of time you can spend with the kids and grandkids. With these easy back-to-school backyard crafts, you can spend time with the family and work on your backyard design as the afternoons and evenings grow cooler.
Each of these crafts can be done in just a few hours, so they're easy, low-stress and creative ways to make something special and unique.
Fire starters for fire pits
If you have an outdoor fire pit, you know that fire starters can make your life so much easier for a cool evening outside. You can purchase fires starters, OR you make them on your own using supplies you probably already have around the house. Here are three ways you can make a homemade fire starter:
With wax – Save up your dryer lint! This fire starter uses dryer link, an egg carton, old candle stubs (the wax) and dental floss. Learn how to put it together here.
Without wax – You can use a cardboard egg carton and vegetable shortening for a quick, homemade fire starter. Check out this three minute tutorial.
With a straw – Yep, a straw. Plus some cotton makeup remover pads and Vaseline. These are portable, and they're sealed, so you can throw it with your outdoor or camping gear for whenever you need it.
A new use for a bare garden trellis or fence: instrument wall or chalkboard
If your garden trellis has bared all the flowers, fruits and veggies it's going to this year, or you have a fence with friendly neighbors on the other side, you can easily create a new outdoor play area for the kids. Think of these spaces like a blank canvas, where you can spend a few hours and few bucks to make the kids (or grandkids) happy for hours:
Instrument wall – Just add anything that will make noise to the blank space. We're talking pots, pans, empty buckets, paint pans or muffin tins.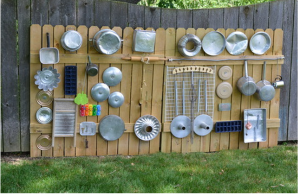 Outdoor chalkboard – another one that can be done on an off-season trellis or fence, and, according to some people who have done this craft, you can actually leave it outside through the winter and it'll stand up to the elements. You'll need plywood, chalkboard paint and of course, chalk. Here's DIY tutorial.
Another bonus with these crafts: they're both easy to break down once the kids move to the basement for the year.
Outdoor decorations and design
You don't need to go on a shopping spree to change your backyard design. You can spend an afternoon or weekend doing these crafts and be rewarded with new accessories and color in your backyard for years to come:
Paint the patio furniture – The great thing about patio furniture is that if it's made right, it'll last for a very long time. So, over the years, you might want to spruce it up a little with a splash of color. This is a pretty straight-forward craft: grab some outdoor paint, some paintbrushes, your spouse or kids and head outside. It's a great way to get kids involved in your backyard design and a way to get ahead for next spring.
Make a pebble plaque or customized stones for landscaping – You can make a natural mosaic using those small, previously-unwanted stones from the backyard. Start by collecting small stones, either from your yard or a local park or steam. Then, make the dough and press the small stones into it in shapes or patterns. Here's a tutorial for how to make the dough. Once they're baked and cooled, add them to your flower bed or garden for some homemade hardscaping.
Create new shades for your outdoor lights with paper mache – An oldie but a goodie! Everyone makes something out of paper mache at some point, so why not make something to add to your outdoor design? You can make solar lamp covers or string lights with different pendant covers. You can find directions here.
Your outdoor area is yours to make your own. Add a personal touch with these crafts, and enjoy them for years to come. For more outdoor design inspiration and to see everything that Fifthroom has to offer, from patio furniture to picnic tables to pergola kits, visit fifthroom.com.