The garden shed has come a long way from its humble beginnings. Back in the day, the garden shed was a pretty pathetic little building. How well I remember my Grandfather's garden shed. It was old, tiny, dilapidated, rusting and practically falling down. Not much was kept there. (Probably because the roof often leaked.) Just a tool or two and some almost-never-used garden shears. Every time we visited our grandparents, Mom and Dad would say: "Don't go out to that old shed!" which, of course, made us want to rush right out there. Today's garden sheds (hard to even call them "sheds" anymore!) are getting lots of attention and respect from modern homeowners and it's easy to see why. This generation of garden sheds is carefully engineered and meticulously constructed of quality materials and come in a wide variety of styles and sizes. As a result, the garden shed is becoming a "must have" accessory to the modern home and the uses to which homeowners are putting their garden sheds are as varied as they are creative. Here are just a few amazing ways you can use your garden shed:
Garden Shed As Workshop. If you or your significant other is a dyed-in-the-wool, card-carrying DIY'er, then you'll love turning your garden shed into a workshop. Set up a sturdy workbench, hang some racks for your tools, get a few storage units (with shelves and drawers) for nails, screws, glues, paints, varnishes, power tools and more and you'll be ready to "measure twice, cut once" to your heart's content. A bonus! Your significant other will simply love the fact that the noise (and the sawdust) is far, far away from the main house.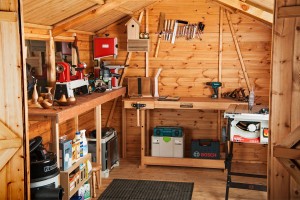 Garden Shed As Home Office. Do you crave absolute solitude when you work from home? Then set up a desk, your laptop, your printer, some shelves and a comfy chair in your garden shed and work to your heart's content! Another advantage to a home office in your garden shed is that you won't be distracted by TV's, kids or tempted to run for a snack. It's all good.
Garden Shed As Gym. Do you truly want to be fit but find a zillion excuses to avoid actually going to the gym? "It's too far." "It takes too much time to get there." It's always too crowded." (Etc. etc, etc.) Yep, we've all said those things a million times. That's why a garden shed is the perfect spot for a home gym. No excuses for skipping your workout when the "gym" is right outside your backdoor.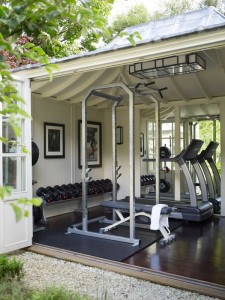 Garden Shed As Playhouse. First of all, kids simply LOVE little buildings. They immediately gravitate to them. So, why not take advantage of this by creating an amazing playhouse for them in the garden shed! Paint the shed a bright color, move in "kid-size" tables and chairs, add a toy chest, shelves for games and you'll have the happiest kids on the block!
Start with a well-made garden shed and let your imagination soar. More great ideas of "What To Do With Your Garden Shed" to come!