We all love roses, don't we? The full ruffled flowers, the saturated colors and the heavenly scent have made the rose one of the most enduring popular flowers in the United States. There's even a language to roses if you take the time to look it up—red roses mean love, while yellow signifies friendship.
But not all roses are created equal, and if you choose the wrong rose for the spot, you will be very unhappy! There are so many different types of roses, with numerous varieties and in all different colors that you really must do your homework before you go to the nursery. First, ask yourself what you want the rose to do—scramble up over a trellis? You'll want a climber. Stay happily in its place without taking over? Check out the shrub roses. Live cheerfully in a pot on your patio? Try a miniature rose!
Only after that should you consider the flower color, scent and bloom type—and when you get into details like that, it's simply personal preference. With so many options to choose from, just be sure you know the size and growth pattern of a particular rose before you buy—their appearance in the nursery pot can be a bit misleading when they are small plants!If you want a large rose to take up a corner of your garden, consider the Mutabilis rose—it'll grow up to 8 feet tall and wide if it likes its spot! And the name is very telling—the rose color "mutates" as it ages, so you will at any given time enjoy roses in shades of pale yellow, pastel pink and bright pink, all on the same bush! I'd say that's a perfect rose for people who can't make up their minds.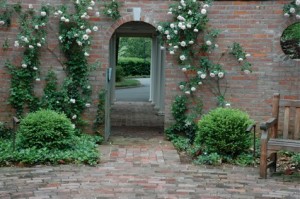 If you have an entryway or trellis that needs adorning, be on the lookout for a climber. These roses will need support, so be prepared to tie them to your structure as it gets acclimated. Ask your nursery professional how tall a particular rose will grow before you commit to it, and be sure your structure is sturdy enough to hold up! Climbing roses are such a gracious, charming addition to a traditional cottage garden—they add an instant air of class and elegance.For most homeowners, shrub roses will be your best friend. These gorgeous plants will grow up to 3 foot tall and wide, so they are very manageable and low-maintenance. No continuous cutting back to maintain their shape and size! As an added bonus, if you look at all the Knockout rose varieties, you'll be treated with months of continuous blooms, rather than the short burst of flower power in the spring!
~Jenny Peterson