It's getting to be the time of year to think about fall flower ideas for your gardens and outdoor spaces. Many types of flowers prefer the cooler temperatures and will bloom magnificently, adding longevity and pops of color to your gardens. If you're unsure of what flowers work for the end of summer and fall, I made a list to help. Growing just one of these flowers would be gorgeous, but combining a few will really create a spectacular garden showpiece. Container gardening to constructing a garden area, these fall-loving flowers will add beauty and whimsy to your space.
Fall Flower Ideas
Chrysanthemums are found in varying shades of red, orange, yellow, peach, pink, and white. Always a crowd pleaser, this is a flower everyone knows and appreciates.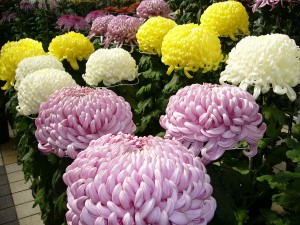 Pansies are available in almost any color. They are heavy-bloomers, with some growing in little mounds, perfect for ground cover; others trail, and are beautiful in hanging baskets.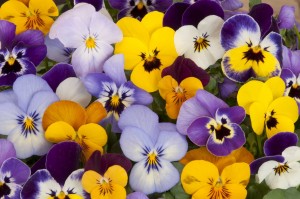 Asters bloom in purple, pink, white, and blue. They are one of the best plants for pollinators to enjoy; if you like butterflies, this is a plant for you. There are 170 species, varying from one-foot to six-foot tall.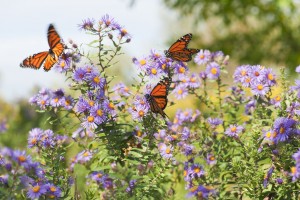 Black-Eyed Susans are also a favorite of bees and butterflies, and are sure to liven up any garden area. Their gold blooms are immediately noticeable and garner attention.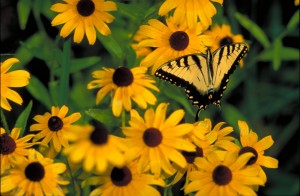 Russian Sage looks a lot like Lavender, but smells more like a sage-lavender mix. It blooms in large clumps of blues and purples. It is deer and drought-resistant, and grows three to five-feet wide and tall.
Japanese Anemone is a tall shrub that blooms in varying colors, from white to purples and maroons. It form in clumps and will happily spread on their own via rhizome. Once mature, they can be up tp four-feet tall and wide. (Tip: All parts of this plant are toxic; wear gloves while handling.)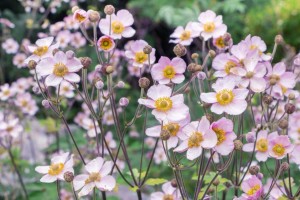 Yarrow has airy, fernlike foliage with tall spikes of tightly packed flowers in white, purple, red, pink, or yellow. It reaches three-feet tall and wide, and gives a cottage garden kind of feel.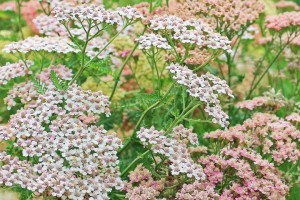 No matter which fall flowers you choose for your garden, be sure to check your hardiness zone to know which plant will bloom the longest in your area and will thrive in your conditions. For instance, Florida weather conditions (hardiness zones eight through 11) are vastly differenthan Rhode Island's weather conditions (hardiness zones five through seven). Of course, you want the prettiest blooms for the longest amount of time, so be sure the plants you choose will thrive in your area (zone). I hope these fall flower ideas help to narrow down the choices and add some gorgeous color to your fall!