If you have an uncovered deck attached to the back – or front – of your house, you've probably had a few moments when you wished you had a structure overhead. Maybe it was a sudden summer storm and your favorite book was ruined by the rain. Or, it could have been a dinner party in the spring that you had hoped you could host outside, but your outdoor heaters just couldn't keep up with the open-air deck.
So, you need something to provide a cover for your deck. Your options include large umbrellas, awnings or a pergola, to name a few. Before you start searching through the many pergola kits and outdoor covering options on the market, here are reasons why your deck needs a pergola.
A Pergola Can Turn Your Deck into an Outdoor Room
A pergola over a deck makes the space suitable for outdoor activities even when it's drizzling or it's a blindingly bright sunny day. A pergola is a versatile solution that would allow for the option to be open-aired, so you can enjoy the warm sun or the bright night stars, or coverage with a curtain, canvas or privacy panel. This covering aligns with the ever-evolving trend of homeowners wanting their outdoor space to be multi-functional, capable of having a television or even a full kitchen.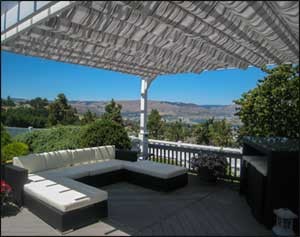 A Pergola Provides More Coverage than an Umbrella for You and Your Guests or Family
A six foot wide outdoor umbrella would provide about 28 ¼ square feet of coverage. A small pergola, on the other hand, that's eight feet by eight feet, would provide 64 square feet of coverage. That's plenty of room for you, a few pieces of outdoor furniture and maybe even a wood patio swing.
It Can Also Provide More Coverage for Your Grill – and Extend Its Life!
A pergola can provide some shelter for your grill, which, when coupled with a grill cover and other weathering techniques, could extend the lifetime of your grill.
It Could Add Value to Your Home
The return on investment on a pergola largely varies between pergola kits, depending on the materials and quality of the structure as well as your location and the value of your home. Some estimate that a pergola can add around $3,000 in value to a home.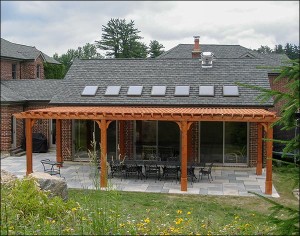 And one more reason why your deck needs a pergola: they can be customized. Check out the huge variety in this gallery, which includes different sizes, shapes, materials, screening options and more.