One of the best things you can do to cheer yourself up during a frigid January is to plan what you are going to do with your outdoor space when spring finally rolls around. If you've been thinking of adding an outdoor structure to your property, here's a bit of information which just might help you make your final selection:
Pergolas. If you want a space where you can enjoy the outdoors and grow flowering vines, consider a pergola. Pergolas, are designed to enhance gardens, patios or porches and can be free-standing or added to the side of a home. These structures are offered in easy-to-assemble kits from Fifthroom.com. Construction is quick and easy so you can be enjoying the view from your pergola in no time at all!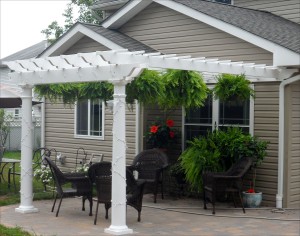 Ramadas. If you're looking for a structure which will provide shade as well as protection from the elements think about a ramada. A ramada comes with a fully covered roof and is an outdoor space that is designed to be an extension of the main living space. Because of its sturdy structure, it's easy to add details such as a fireplace or barbeque. Some homeowners include an outdoor kitchen and wet bar in their ramada to make it a fully featured area for entertaining.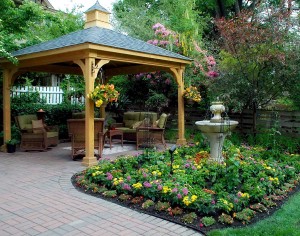 Gazebos. Gazebos are one of the most popular and oldest outdoor structures. They're even said to have been invented before tents and were one of the very first forms of outdoor shelter. Basically, a gazebo is a small building that's ornamental, with a roof over a small area that can include benches or patio furniture for sitting. And, you can add screens or solid panels for even more protection from the elements.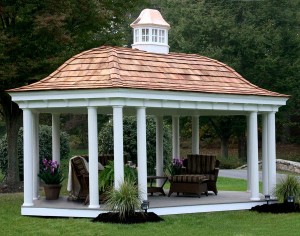 Making the Right Choice. Pergolas, ramadas and gazebos all serve different purposes so choose the structure that best meets your needs. Also, consider how much space you have. Ramadas and gazebos take up a good deal of space and are independent structures. They're ideal for large, open yards with expansive lawns or gardens. Pergolas, on the other hand, are ideal for smaller backyards and homes with open patios. Budget is another thing to consider. Pergolas, since they are simpler structures, are a bit more affordable than ramadas and gazebos.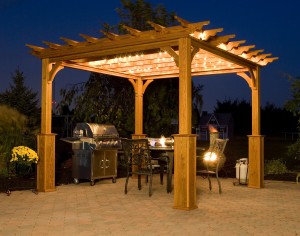 Still have questions about pergolas, ramadas and gazebos? Then, give us a call at 1-888-293-2339 or visit the Fifthroom.com home page and do a Live Chat with one of our helpful customer service reps!