Ruby slippers are not necessary, nor is the Yellow Brick Road!   However, the great thing about the Fifthroom Wizard is that it can help you easily walk through your next project even if you're sitting at home wearing furry slippers!
So what is the Wizard? Good question! It's a very simple-to-use, award-winning online web application that'll help you design nearly every single aspect of your next Fifthroom project. Better yet, it doesn't force you to download an app, as you can do everything right on our website. By way of explanation, let's look at pergolas, one of our most popular products for years now.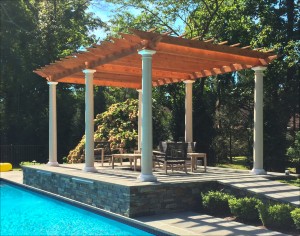 If you scan the pergola section of our website, you'll begin by picking out an overall category. This might include: Vintage Classic, Oasis, Belvedere, Wall-Mount or Inline. This is the starting point for your pergola project. But it's just that! Your second choice is related to the material your pergola will be built with. Are you the traditional type and want one made from western red cedar or do you prefer the low maintenance style of vinyl or fiberglass? The decision is up to you.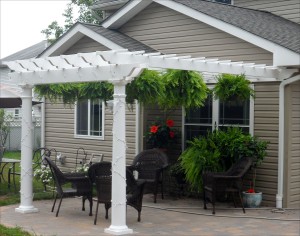 Your next choice is the most obvious one: size. With other online retailers, that's about the only choice you'll get, but with Fifthroom, that's only the beginning. Using our Fifthroom Wizard, you can easily and quickly move your way through 13 different categories, so that you can customize your pergola to your own exacting standards. You can pick a stain, canopy, hardware, spacing of the lumber runners and on and on. And, every time you change or update an option, the final price updates automatically as does the image you see of your pergola. Very cool!

Listen, we get it. There are a lot of decisions to be made and you don't want to make a mistake that you'll regret later. The Wizard is here to make sure that doesn't happen! But even if you get stuck, or have a question, well, in our case you really can talk to that "Man Behind The Curtain!" Just do an online chat with us, email or call us for personal, professional help. Our online consultants are based at our U.S. headquarters and they're here to make sure that you get EXACTLY what you want.

So whether it's that perfect pergola, a grand gazebo or a posh new pavilion you're shopping for, jump on the Fifthroom.com website and get to know The Wizard!