The picnic table takes many of us back to remembering the joy of childhood. Most of us probably sat at picnic-style tables to eat lunch each day in our school's cafeteria. Still, as we grow older, picnic tables remain a sign of celebration and innocence.
Now, I find myself sitting on picnic tables at events like my friend's baby shower hosted outside at the local park's pavilion. But, in many cases, picnic tables are not the dining set of choice for outdoor and indoor living – instead, we usually see a table with chairs. I'm here to show you how you can incorporate this traditional furniture inside and outside in new ways:
Traditional with a Twist
Having a picnic table outside allows you to entertain guests all season long. We've all seen traditional picnic tables: one long table and two attached benches. Invigorate this look by adding two backed benches with two backless benches like Fifthroom.com's Treated Pine Wide Picnic Table.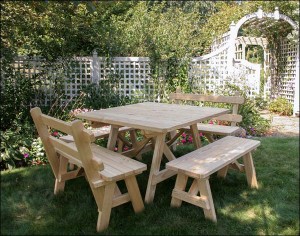 This rustic look fits right in with the current trend of using mix-matched chairs at your dining room table. The 43″ x 46″ wide table is squarer than your traditional long one, giving way to the modern picnic table.
Move The Party Indoors…
Whoever said leaving your picnic table outside is the status quo has it all wrong! This family has it all right:
We love how they brought the comfort of their outdoor living space, inside. The picnic table not only serves as a meeting place for family dinner, but is also the game night destination! Emulate this look in your kitchen with Fifthroom's Treated Pine Picnic Table with Attached Benches!
Its durability will withstand years of the kiddo's horseplay. Create a fancy dining setting for the one you love just by draping a linen table cloth over it!
Add Color
We love how this family used a navy table that sits so well against their neutral-colored wall and blinds! It's inviting and all of its traditional characteristics remain, so the whole gang can still fit!
Our Poly Lumber Picnic Table
comes in 20 different colors ranging from Aruba Blue to Scarlet Red — and its guaranteed not to chip, crack or peel!
Fifthroom
has even more picnic tables to choose from in a variety of materials including Highwood, Polywood, Southern Cypress and Red Cedar! Define your outdoor and indoor living space today!