First, a wee bit of history. "Picnic" comes from the French word, "piquenique," which,when translated means: "an outing with food." At the original French piqueniques all of the invited guests would bring food — very similar to what we would call a "potluck" today. It was actually, not until the 19th century, that a picnic specifically meant eating outdoors. But, whether you're planning an elaborate chef-inspired feast or a laid back lunch, eating outside still takes a bit of planning. Here are some tips to make your next picnic, your very best one ever.
Pack with care. Nothing ruins a picnic faster than dried out or soggy food. Before you set off, make sure that your plastic containers are tightly sealed, you've got plastic cups or glasses for the kids and, if you do decide to bring wine glasses for the grown-ups, bring a tray along so you have a sturdy surface for glasses to sit upon between sips.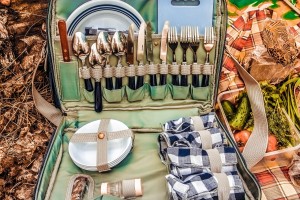 Keep it cool. We've all heard those nightmare stories of picnics gone bad from spoiled food so, don't let it happen to you. Keep salads made with mayonnaise cold with ice packs or in a separate cooler and once you've reached your destination, resist the temptation to put everything out for all to see if you don't plan on eating right away.
Add dressings and condiments last. To keep sandwiches and salads from getting soggy while in transport, pack condiments and salad dressings separately and add them just as you are getting ready to eat. The same advice goes for dessert toppings like pre-cut fruit.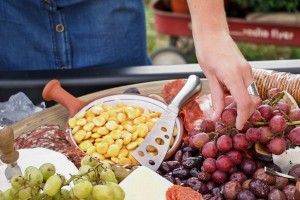 Plan on going to a location that you love. If you're not the kind of person who enjoys sitting on a blanket on the grass, don't worry. You can still have a great picnic. You can picnic anywhere – at a local park, on the beach or even at a great table in your own backyard! You can even picnic inside if that's what makes you happy. Remember, a picnic is 50% food and 50% ambience so pack some delicious food, decide on a super spot and enjoy one of summer's greatest pleasures with the ones you love.