Outdoor lounging has been a popular past time for many years, and it is only getting better as new designs are being made. Now, you can perfect your outdoor lounging by owning a swingbed. True to its name, a swingbed is a swing with an elongated seat. It's bigger than the average swing, and it is just as useful, too!
Being the owner of a swingbed has its benefits. If you're the type that likes to sit back, relax, and have your feet up, then a swingbed would be perfect for you! You can unwind outdoors on your swingbed, whether you're interested in curling up with a good book, or if you simply want to watch the clouds go by.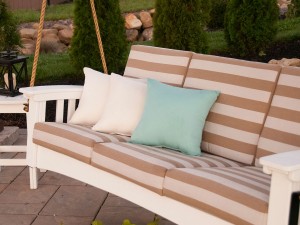 Just like the average swing, you have your choice of color for your swing bed. If you're interested in the wood look, you have several stain choices to choose from. Unfinished is also available, as well. Some of the swingbeds on Fifthroom.com offer a colored paint option, too!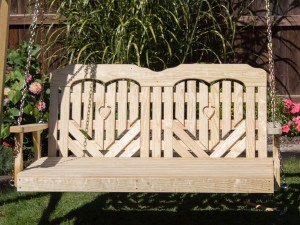 Comfortable is another characteristic of a swingbed. If you're seeking extra comfort, a cushion may be the right addition. Along with a variety of swingbeds, Fifthroom.com offers cushions that are made specifically for any swingbed of your choosing. Include a few accent pillows to complete the look, and you'll be set!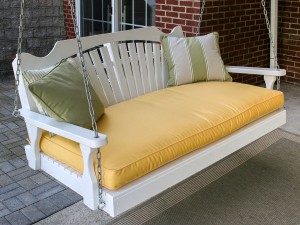 No matter what swingbed interests you, you'll be able to customize your choice to your liking. Sitting on a swingbed is a wonderful way to lounge outdoors. Be sure to stop over at Fifthroom.com to see all of the swingbeds that we have to offer!