Many people have a storage chest in their home. Maybe it's in the dining room or at the foot of the bed. Maybe it's a toy chest in a living room.
We use it to keep our linens, blankets, toys, sewing kits and other items organized and in one spot.
All in all, whether the chest is a cedar chest, designed to ensure that moths and other insects don't eat through the fabric of items that matter to you, or a hope chest, which is typically associated with a bride for her wedding, all chests are functional furniture meant to warm a home and add extra storage space.
Here's a timeline of the history of the storage chest and how it came to be a staple in many people's homes:
Ancient Egypt: Yep, cedar chests can be dated all the way back to this time period. It's said that Egyptians used cedar chests to protect and store their gold and papyrus documents.
1300s to 1500s – The European Renaissance: During this period, the chest became decorative in addition to being functional. This is possibly the first instance where these chests were associated with weddings; the original hope chest. At this time, they were known as Cassone, and paneling depicting classical or biblical stories were added to the chest. It was often presented during a wedding ceremony from the bride's family to the groom's. After the wedding, the chest would stay with the couple and be placed next to their bed.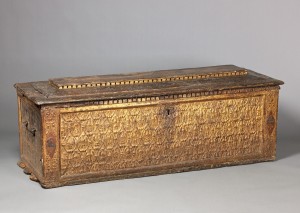 Example of a hope chest from the European Renaissance
Late 1400s – late 1700s – Colonial America: Storage chests shifted purposes for the Colonial Americans, as they settled and needed functional furniture. Instead of being an item to show off at a wedding or in a home, cedar chests acted as safe storage for their valuables, clothing, blankets and winter clothing from the wet and cold elements. It's in this time period that people also began using chests as seats.
1900s in America: In the early 20th century, hope chests had lost their popularity. One company, Lane, had been commissioned during World War I to produce chests to hold ammunition. After the war was over, the business was gone, so Lane launched an advertising campaign to reignite the romanticism of a bride putting together a hope chest for her wedding day and new home. And it worked: hope chests are still popular today.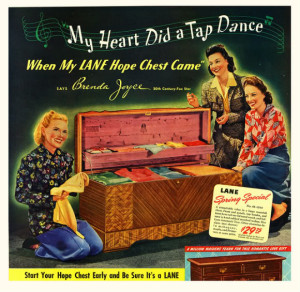 Lane Furniture Hope Chest Advertisement
Today: Hope chests are more versatile now than ever before. While some people still use it as part of the wedding tradition, many people use it as a functional piece of furniture that can have a dual purpose of both storage for blankets, toys or holiday décor and as a coffee table or window seat.
Hope chest that doubles as a window seat.
 Fifthroom.com offers a variety of hope chests, from cedar to pine to cherry and more. Check them out here.