Whether you're young or old, the simple act of sitting down in a comfortable chair is one of life's great pleasures! I'd dare say that many of us either have a favorite chair or know someone in our family who does. If you don't have a favorite yet, it's time to find one at Fifthroom.com, particularly when it comes to outdoor seating. Let's look at just a few of your options.
Our Teak Port Chair, Ottoman & Table Collection is really, really comfortable.  I'd easily put this on my list of favorites! The solid wood construction uses only 100% Grade A teak, which is really durable and elegant — and the wide flat arms are great for balancing an adult beverage on! The deep, cozy cushion are made of Sunbrella® fabric, which is known for its beauty and weather-resistance.
OK. Let's call this "seating while eating!" OK. Maybe not. This is our 60" Black Wicker Dining Table and Full Weave Chair Set. A beautiful, stylish way to entertain, either out by the pool, in your sun room or right next to your outdoor kitchen. This set is made of synthetic wicker, stainless steel and Teflon coated fabric, which means the entire set is essentially maintenance free!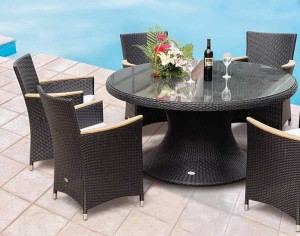 I'm going to have to put these chairs near the top of my "comfort list" as well. This Poly Lumber 3 Piece Classic Terrace Deep Seating Set features thick, comfortable Sunbrella cushions, which come in a huge assortment of colors and patterns (check our site for the full collection!) The maintenance-free poly lumber construction of this set is also available in seven different colors, so you can make sure that the chairs and the side tables will perfectly match your home and style!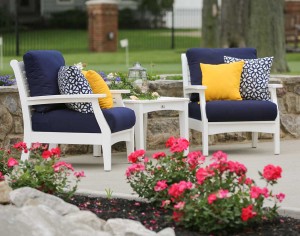 Finally, let's consider the humble Adirondack chair. This Polywood Seashell Chair is designed to give you just the right amount of reclining comfort, whether you add a set of cushions or not. And the optional ottoman is perfect for stretching out and just soaking in the sun! Ideal by the beach or at your cabin in the mountains — or just in your suburban backyard, you'll love this chair.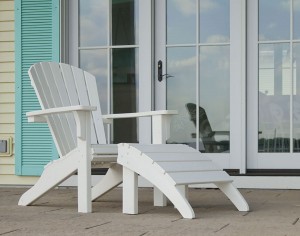 Whether your favorite "seat" is a chaise, chair or couch, Fifthroom.com has the best seat in (or out!) of the house!