As winter begins to wind down, you're going to be cleaning up your yard for the arrival of spring. As you're gathering up your winter decorations, storm windows, and snow shovels, you're going to have to store them somewhere. Then, you'll have to bring out your spring decorations and yard accents. Some people choose to store their outdoor items in their garage, while others choose to store them in their attic.
This can be a problem, especially if your outdoor items take up space, or if they get lost among other things. Why not invest in a place where you can store all of your outdoor items? That way, you will know where all of your outdoor items are from season to season. The solution to your storage problem is a shed!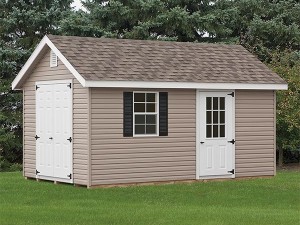 Sheds can store a heap of outdoor supplies. You can store your lawnmower, weed whacker, and gardening tools in it. A gardener can use their shed as an area for planting flower pots. If you have children, then owning a shed is definitely a perk! It's great for storing bikes, lawn games, and other outdoor play equipment.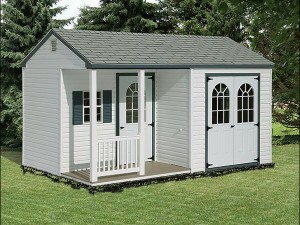 Not all homes come with sheds, but that doesn't mean that you can't place one in your own yard anyway. Installation shouldn't be a pain, especially with Fifthroom.com helping you. Choose a size anywhere from a small shed to a large one. Then, you can choose a look that fits your home. Are you interested in your shed having vinyl siding? You might be more interested in making your shed look like a log cabin. Either way, finding a shed designed for your home has never been easier!