The Outdoor Living sensation in urban and suburban settings continues to integrate into our daily lives. More and more time is spent in Outdoor Living rooms. Outdoor Kitchens, Grilling stations and Pizza Ovens are some of the most admired features in Outdoor Living projects.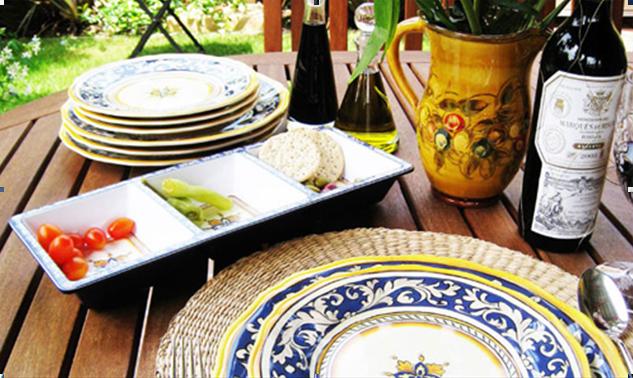 It is important to embellish these outdoor kitchens with stylish dinnerware and chic accessories. You can choose from lightweight and shatterproof dishes to artistic ceramic plates. The classic rooster pattern which is very popular in Italian ceramic designs from Deruta, the ceramic capital of the world, or stoneware reminiscent from the French countryside, a classic olive-branch pattern are both ideal for summer entertaining in either traditional ceramic or melamine dinner plates.
Most women that I know like variety with their accessories, so this is a unique opportunity to possess a set of dishes for inside the home and another one for outside.  My suggestion is to choose accessories that you have always desired but did not have the courage to purchase.
This outdoor living area and outdoor kitchen supplies a safe haven for your creative juices to surge, especially if you have chosen neutral furniture, this is your opportunity to add the finishing touches in a very unique flair all your own.
Try mixing and matching colors and shapes, square plates matched with round plates add an appeal to a set tabletop.
Coastal settings can use these coral designs to accent their outdoor room, the delicate tendrils of coral slip across the rim, attached to the rim by a band of undulating color.
This is a cost-effective solution to helping families get rest and revitalize from a stressful day, as they stay at home and eat out less often.
Enjoy the design that you can create in the Outdoor Living Space.