Bistro. I just love that word. It endlessly conjures up images of charming cafes located along cobblestone streets in European cities (especially Paris!) To me, food just tastes better at a bistro because you are not just served food but also a hefty portion of atmosphere, too. Oddly enough, the word bistro is derived from a Russian word, "bystro" which means "quickly." It entered the French language during the Battle of Paris in 1814. When Russian officers wanted to be served quickly in Parisian restaurants, they shouted "Bystro!" The French changed the "y" to an "i" and bistros were born! At Fifthroom.com we have a variety of beautiful bistro sets which are perfect for everything from casual lunches to romantic dinners.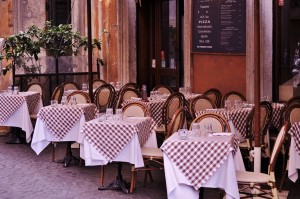 Our Eucalyptus Bistro Set is ideal for a terrace, rooftop garden or other small space. Available in both bright and neutral colors, the table and the chairs fold for easy transport and storage.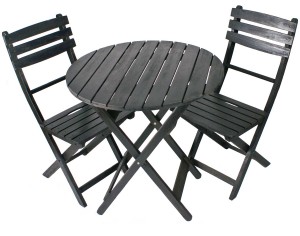 The Wicker Sands Dining Set is truly evocative of a charming outdoor restaurant. Constructed from durable synthetic wicker, this bistro set is ingeniously designed to be simple, yet elegant. The tempered glass table top features an umbrella hole to allow you to add a colorful patio umbrella if you like.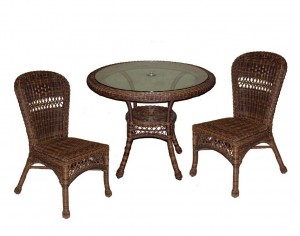 Our Red Cedar Set is constructed of water-resistant Western Red Cedar and can be stained and sealed if you wish. The set includes a 3" round trestle table and two Royal Highback Chairs. If you wish to add an umbrella hole, you can do so for free!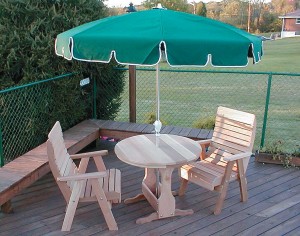 The Poly Lumber 3 Piece Garden Classic Set is the one for you if you crave a "bistro-esque" yet easy-care bar set. This set comes in 21 gorgeous colors and is absolutely maintenance-free. From hottest sun to the fiercest storm, this Poly Lumber Garden Set can take the weather year in and year out.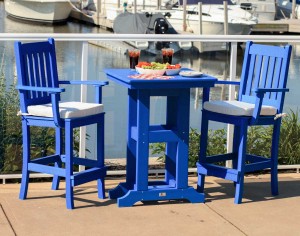 FIfthroom.com bistro sets are stylishly designed and built to last. As the French say: Viva La Difference!